Donjek Route is a 60 mile backcountry route in Kluane National Park, Yukon Territory. My friend Rani and I did the route from Aug. 13th to Aug. 19th in 2016.
Trip Planning
Not a lot of people have done the route. Fortunately, some of them have uploaded their GPS tracks. We built our map in Alltrails using mainly Stilianos Louca's gpx file, and found it to be fairly accurate. We also downloaded scottw66's track on everytrail. His route did not cross Duke River, but instead followed the river downstream. In our hike, we eventually did the same thing.
It was a little tricky to estimate the number of days we would need. We took into account that the route was mostly off-trail, but we were also prepared to hike over 10 hours every day. In the end, we decided that 7 days should be a good estimate, and would carry an extra day of food for safety. Kluane is grizzly country and bear canister is mandatory. We carried our own BearVaults.
Difficulty
This is probably the hardest hike I have ever done. Most of the route is off-trail. Navigation is not a huge problem because of the dramatic topography, but there's a lot of bush (and tree) whacking. Descent of Hoge pass is also quite difficult.
Logistics
Kluane National Park is a couple of hours drive from Whitehorse, YT. While Whitehorse is the largest city in the territory, it has a population of only twenty thousand. Flights are expensive and sparse. Air Canada and Westjet have a few daily flights heading to Whitehorse from Vancouver. Air North has scheduled flighs from Edmonton and Calgary. And that's it. Coming from New York, it took Rani a whole day to finally get to Whitehorse.
As for rental cars, there are a couple of Budgets and Driving Force in town. You may want to book early. By the beginning of August, neither company showed any stock left online. Our rental car from Driving Force costed $600 for a week, and we only drove it for like 6 hours. Quite expensive but there is no other way to get to trailhead other than hitchhiking.
Permits are issued in the visitor center at Haines Junction, 2 hours west of Whitehorse. From Haines Junction, drive north west for another hour, and right after crossing Duke river, there's an old mining road parallel to the river. This is where the route starts.
Day 1
We arrived at the trailhead at around 2:30 pm. First few miles was an easy walk on the old mining road. After Copper Creek, the road would continue to descend north. At that point, get off the road and head south west, circling the Atmosphere Mountain. Terrain was mostly tundra, but fortunately there weren't many bushes. We hiked a couple more hours and called it the day at around 9pm.
Day 2
After a couple of hours' hike on tundra, we arrived at the valley leading to Hoge Pass. There's a warden's cabin half way into the valley. It sat at the boundary of the national park. Following the creek upstream for another hour, we arrived at Hoge Pass at around 2pm. There was a vague trail that leaded to the pass. It was impossible to descend directly down the first valley. Instead hike up to the right side of the ridge and follow the other valley. The valley was steep and narrow. There were cliffs on both side. The surface was mostly rock and could be quite slippery. I do not recommend doing the pass on a wet day. We spent 5 hours scrambling down the valley and finally got out of it at 7pm. We were really exhausted and set camp at first sight of a flat area.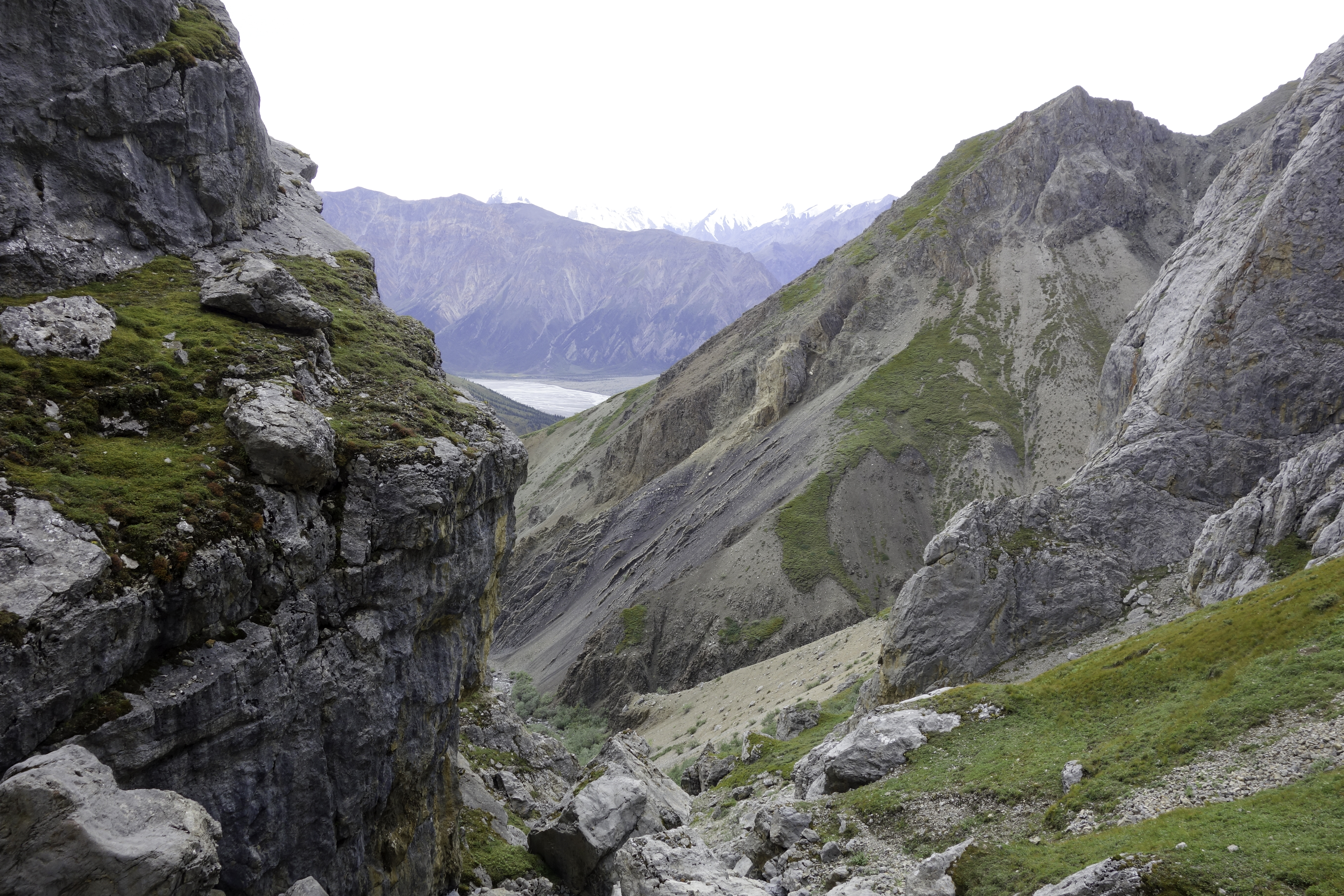 Day 3
Rest of the way to Donjek river was quite easy. The route would then follow the river upstream. The hike was easy at first. It may be necessary to cross a couple of braids. After a few miles there would be places where the river ran right next to the cliff. We had to turn around and climb up the bank. There was heavy vegetation on the hill, including trees, bushes and tundra. We were fortunate that we stumbled upon a horse trail, so it wasn't so bad at the beginning. However we lost the trail after crossing one of the creeks and the second half of bushwhacking was tough. We were also unwisely wearing short sleeves, so that left scratches on our arms. Even though it might be tempting to drop back down to the river, there were multiple occasions where it was cliff on the left side and uncrossable river in front. I would recommend staying up on the hill. We finally got to the front of the glacier at around 9pm and called it the day.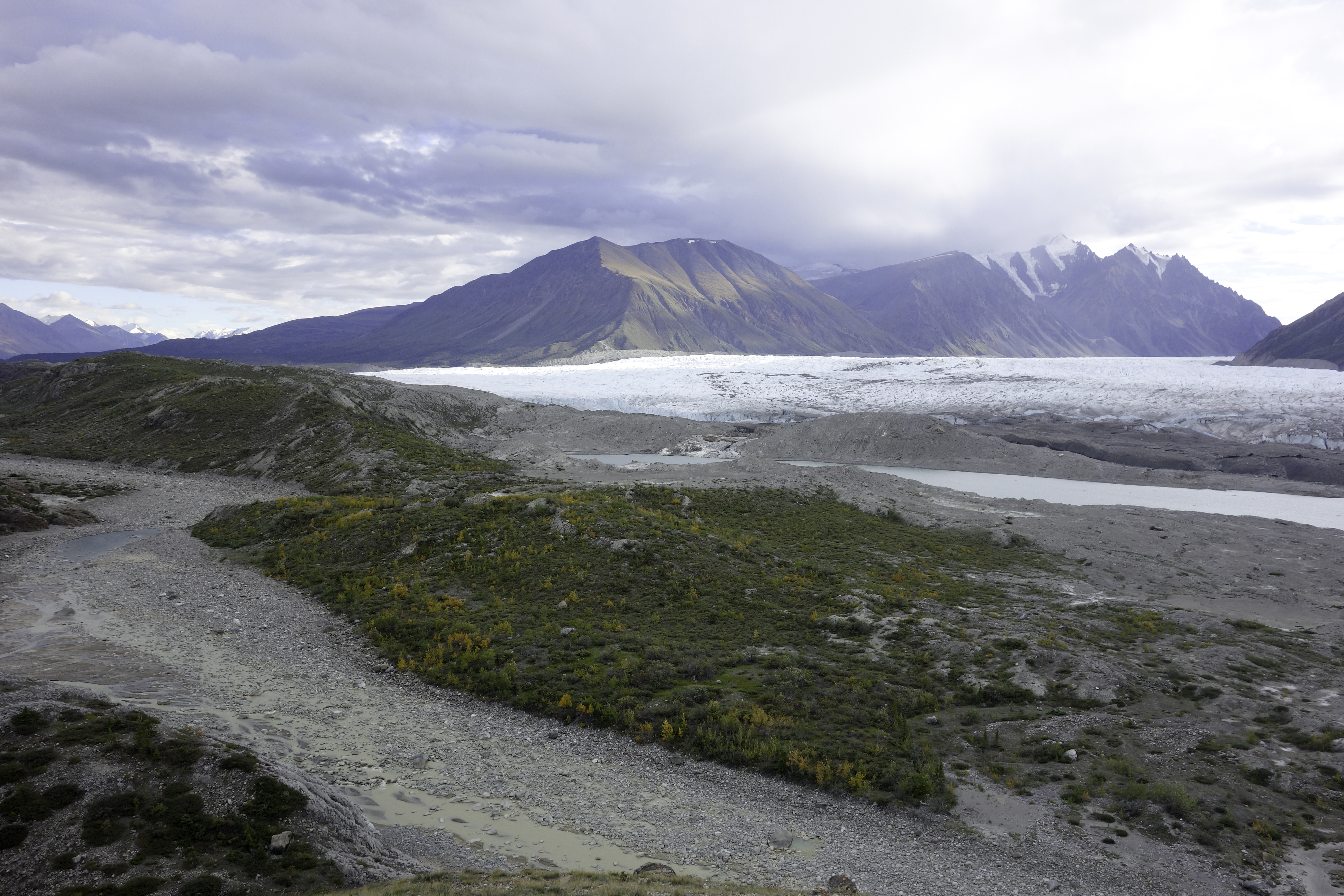 Day 4
According to Talking Trails blog, Bighorn Creek is not easy to cross and neither of us were that comfortable crossing creeks. We therefore elected to go with the alternative route over Expectation Pass. View on the pass was a highlight of the trip. There were also a half dozen of Dal sheep on the pass.
After the pass at the first valley, the track we had on our map called for us to keep walking on the hillside, but the slope was pretty steep. We did not feel comfortable following it and had to follow the valley down until it intersected with Bighorn Creek again. The descend was not easy but there were vegetations, so we managed to fight our way down. Getting back to the original route, we hiked a couple of miles more until we encountered a cliff again. We retracted a little bit, climbed a more gentle slope and pitched our tent on a tiny area that was relatively flat at 10:30pm.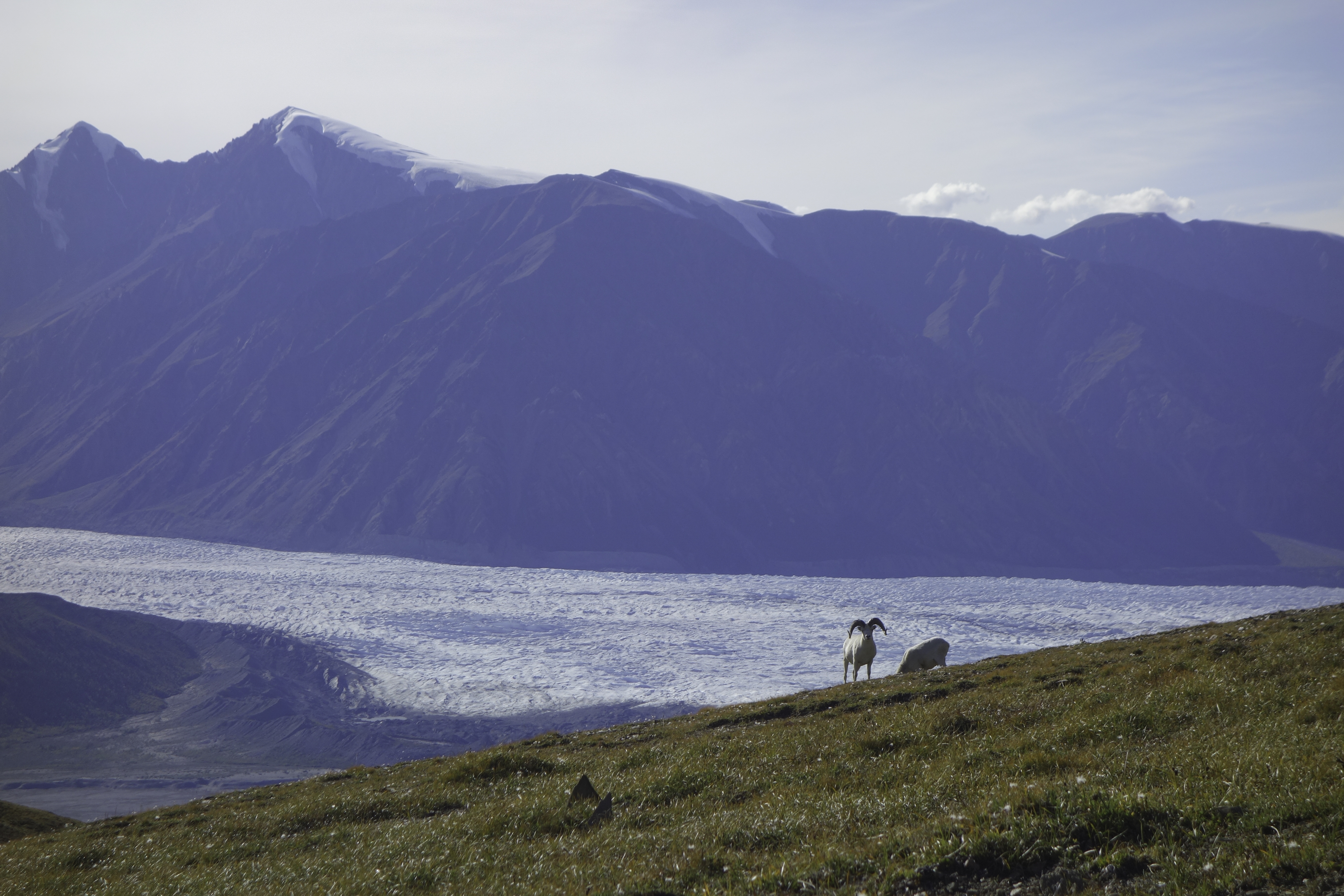 Day 5
It started raining when we broke camp at 10am. We were warned by the ranger not to attempt the pass if weather was bad. "You could die" is what she said. With our experience on Hoge Pass, we were inclined to believe her. Not wanting to die, we walked half a mile, found a better campsite, lied in tent and rested for the day.
We were quite worried that if weather didn't get better, we would be trapped. I recalled that the Delorme Inreach I carried could actually receive weather forecast, so I gave it a try. Forecast for the next day was sunny until 5pm. We were slightly relieved but still skeptical about its accuracy. We decided to get up as early as possible to make sure we could climb down the pass before the rain came in.
Day 6
We woke up at 5am and it was freezing, We took off at 7am and arrived on top of the pass an hour later. The climb was not hard. Going down, we were careful following the track on the map and descended from the second valley on the left. The valley was actually much easier than Hoge Pass. It was quite wide and slopes weren't that steep. We arrived at the bottom a couple of hours later around noon.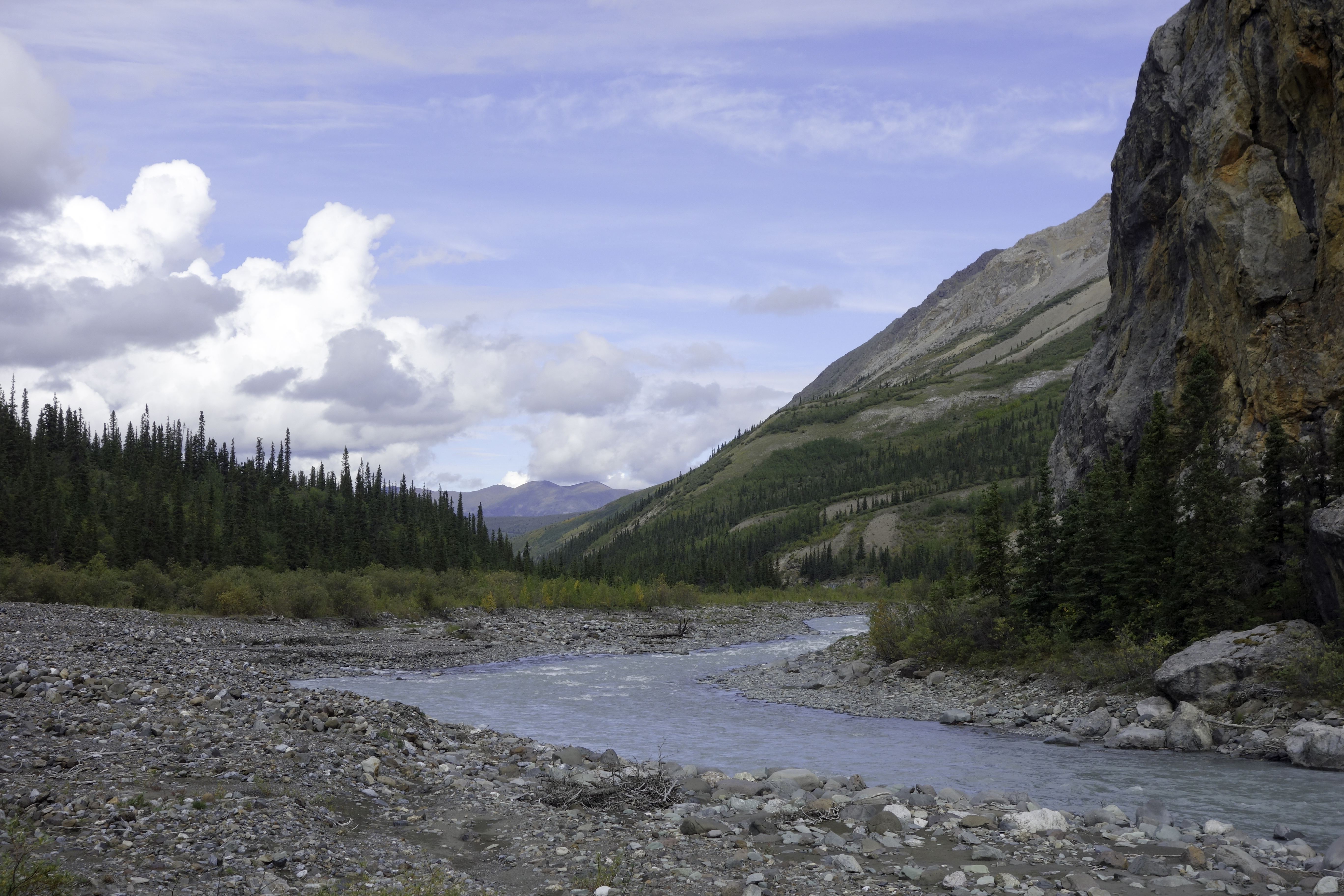 From the trip reports we read, crossing Duke River looked scary. Plus hiking out of Copper Joe Creek as in the original route would cause some logistical inconvenience, as we would need to hitchhike back to where we parked the car. So we decided to follow scottw86's route and followed Duke River downstream. It was easy at the beginning, but about halfway down when we thought we would be able to hike all the way out this very day, the river met the cliffs again. We had to climb up the hill and bushwhack. While I still hoped to drop back down to Duke River, Rani decided (wisely) that we should head north to hit the old mining road we came in on. So we continued marching in thick vegetation and crossed multiple valleys along the way. We reached Granite Creek at around 6:30pm. We had been walking for over 13 hours and exhausted. Knowing that it wouldn't be possible to get out that day, we found a tiny spot on the river bed to set up our tents.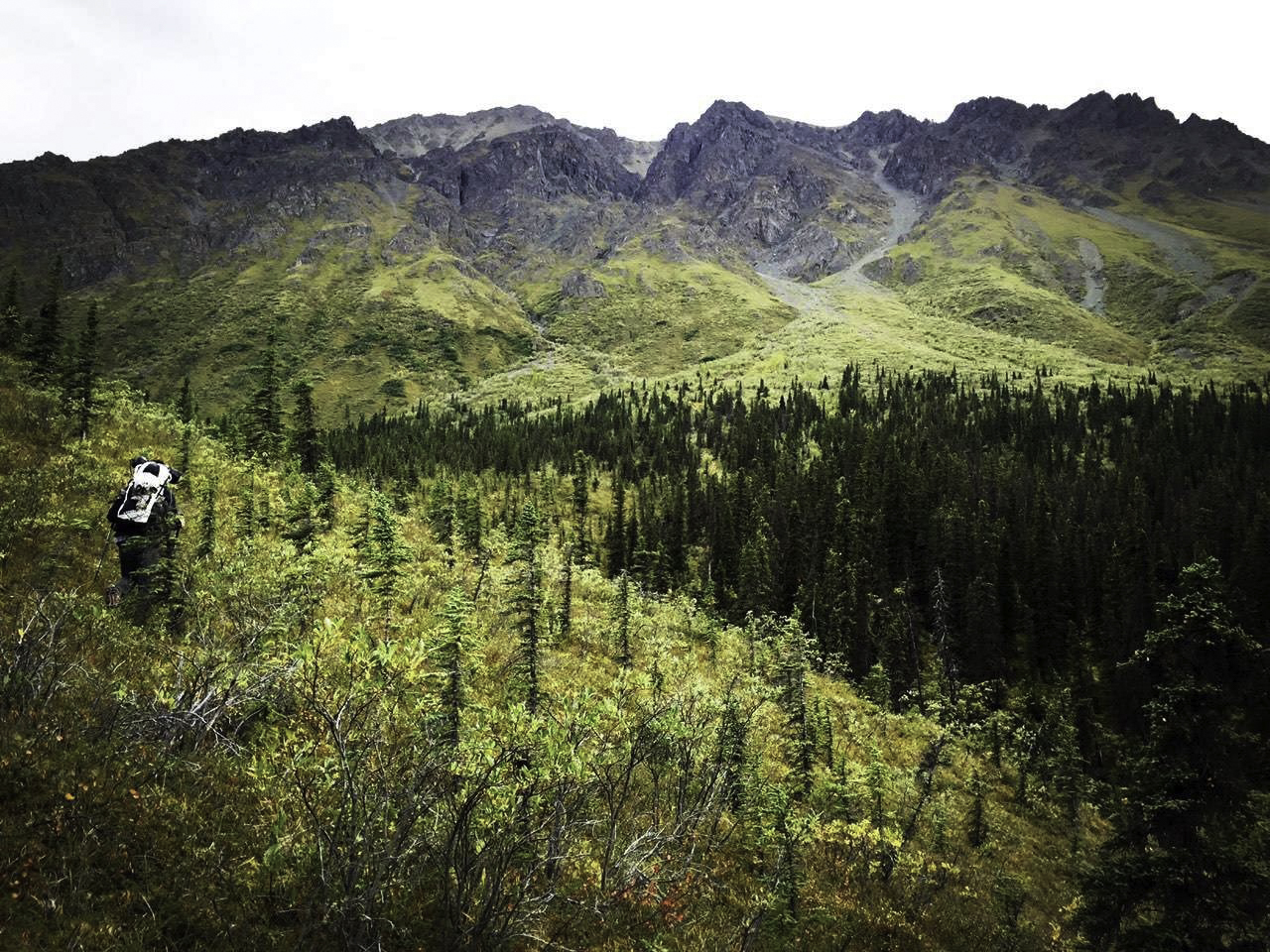 Day 7
We crossed Granite Creek in the morning, and continued on. After 6 hours of relentless bushwhacking, we reached the mining road at 2:30pm. It was a great relief. From there it took us another hour to get to our car, and we then drove all the way back to Whitehorse.
---