John Muir Trail is a 211 mile trail between Yosemite and Mt Whitney. It is widely regarded as one of the best trails in the world. I hiked (most of) the trail northbound from Jun. 6th to Jun. 19th, with some detour on Sierra High Route from Road's End to Mather Pass.
Logistics
I flew into Reno on Jun. 4th. The next day I took Route 395 bus operated by Eastern Sierra Transit to Lone Pine. On Jun. 6th I went to the ranger station for a wilderness permit. At 8 am in the morning, there were about 10 groups waiting outside. The ranger held a quick lottery draw when he showed up. It was more like a formality, as all of us got our permits with no problem.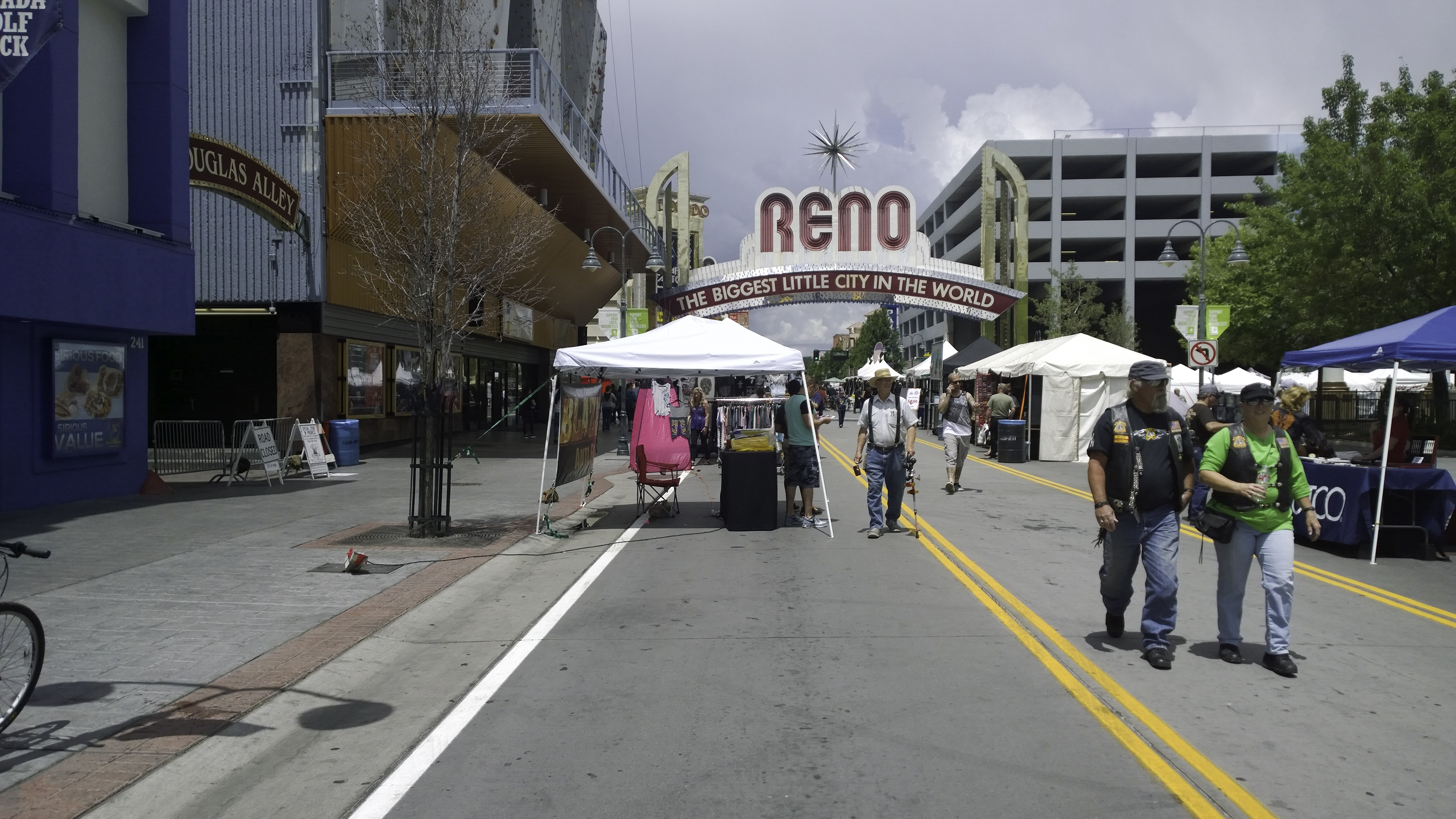 So I went back to town, checked out from the hotel and walked to the intersection to Whitney Portal to hitch a ride. There are quite a few people heading to the portal every day. It took me only 5 minutes to get a ride, one of the smoothest hitchhiking experiences I ever had.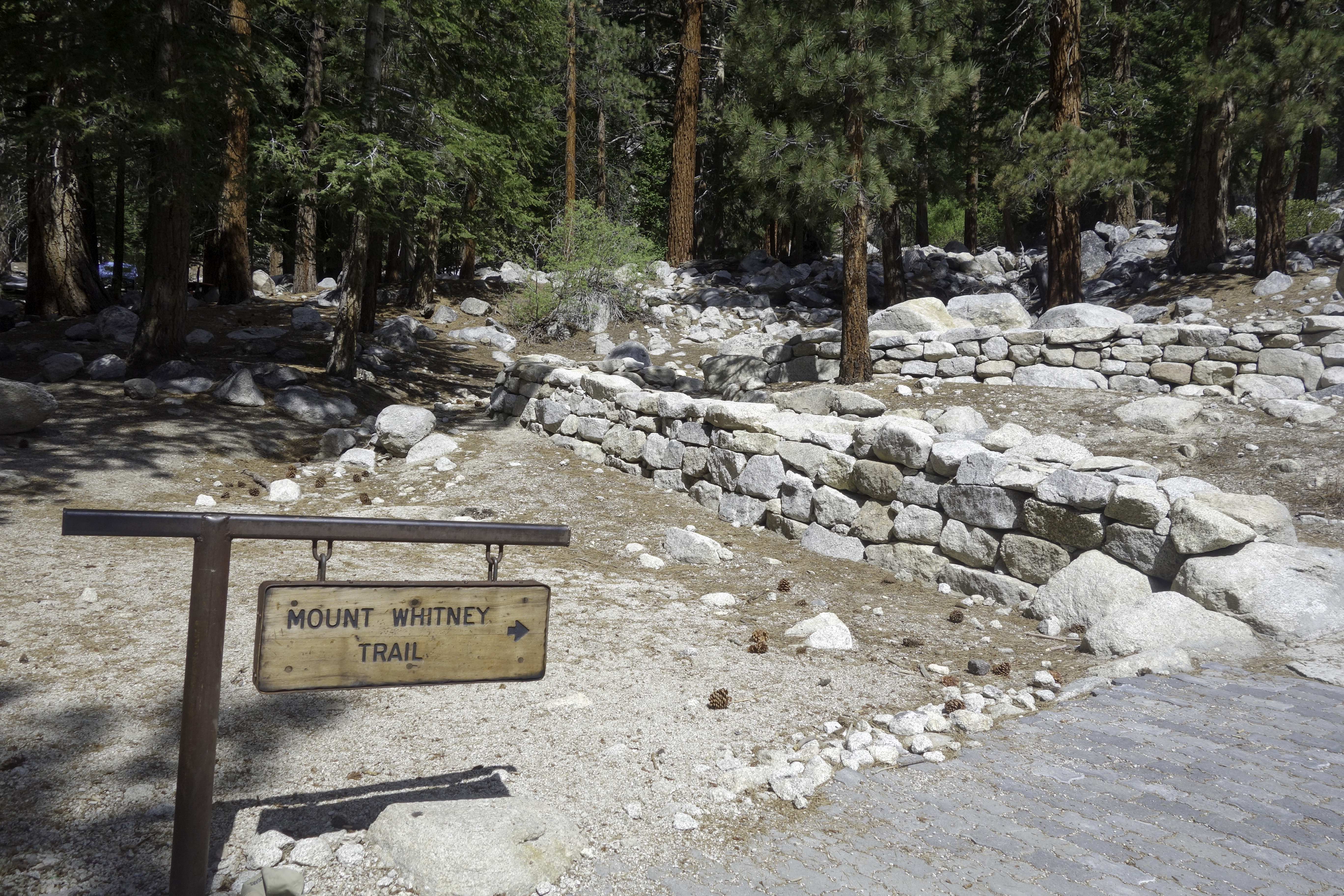 Mt. Whitney
It all started at Whitney Portal, about 8000 feet above sea level. Early June would be considered too early to attempt the peak without mountaineering gears, but thanks to the record low snow year, the hike was totally doable with just trail runners.
Everything went very smoothly in the first few hours. Weather was good, even though I could see the clouds closing in. I was carrying a fairly heavy bag with 5 days of food, but it was first day, so with fresh legs and adrenaline, I was walking at a good pace. I arrived at Trail Camp around 1 pm, and decided to push it despite the clouds. I had some unfinished schoolwork and probably shouldn't do this trip to begin with, so I wanted to finish the hike sooner rather than later.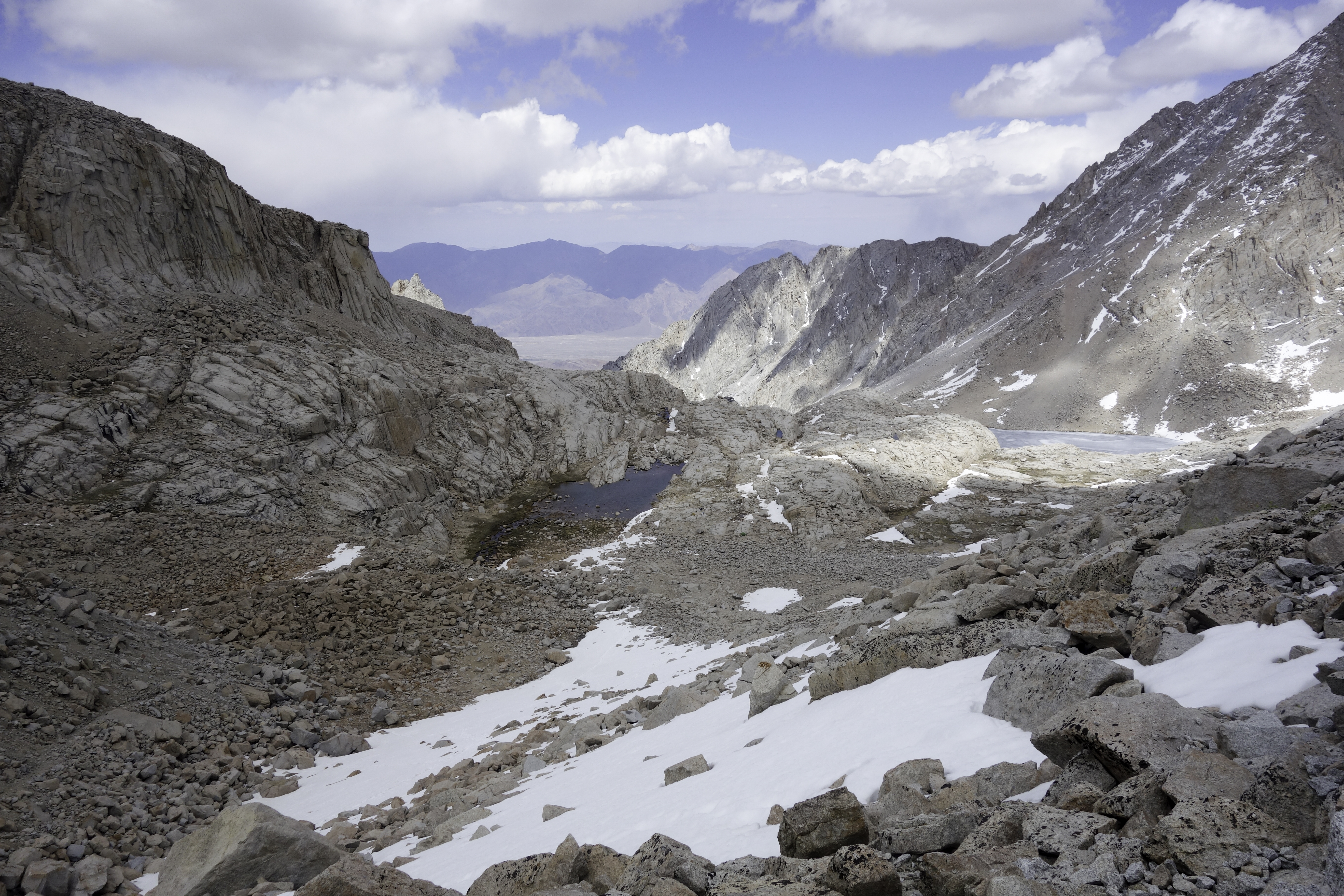 Immediately after Trail Camp was the infamous "99 switchbacks". There were still quite a few patches of snow at the cables, so I put on my microspikes. I didn't think it was really necessary. This was also the only time I used them during the trip.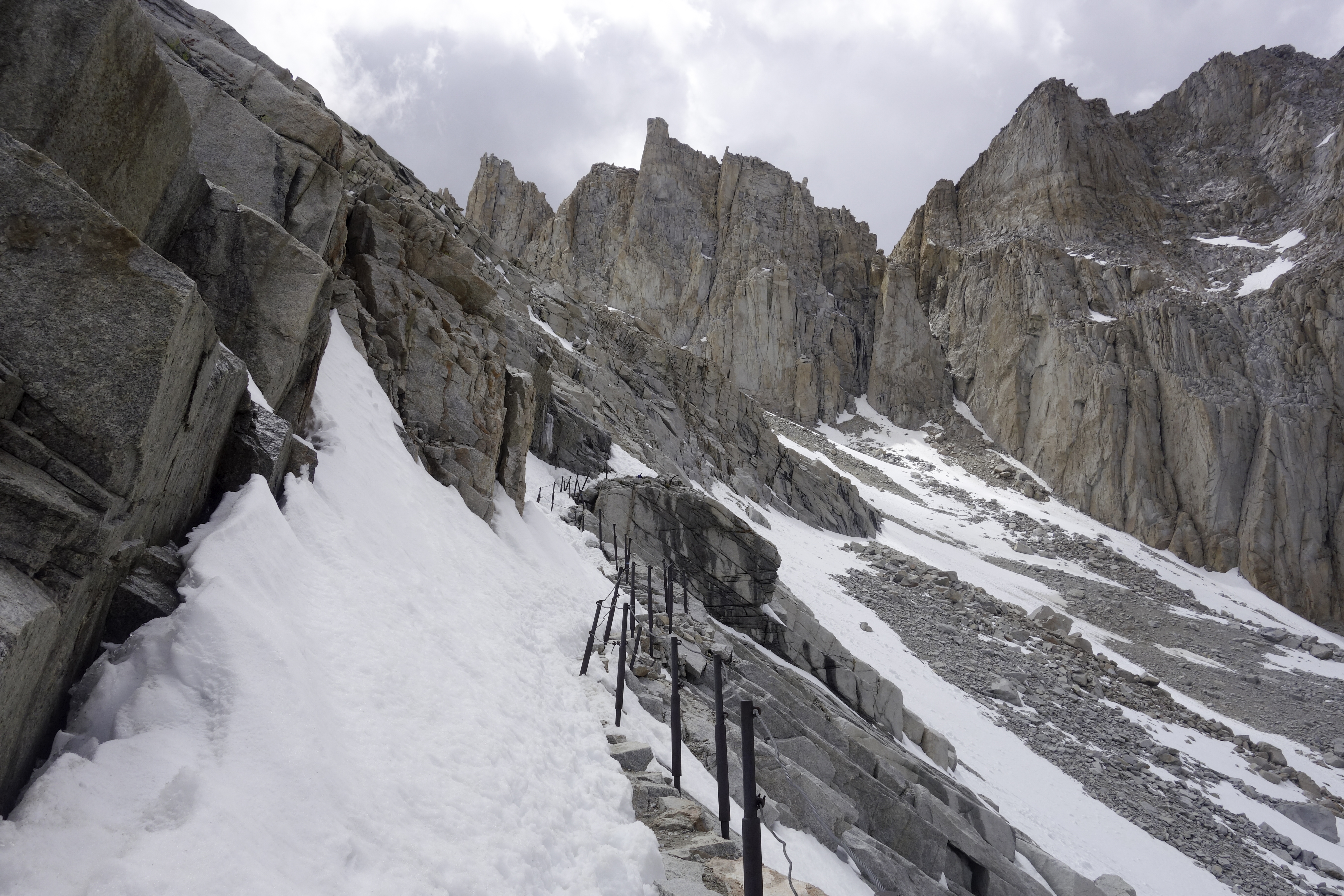 Weather continued to deteriorate and it started hailing when I got closer to Trail Crest. I was wearing short sleeve T-shirt before Trail Camp and felt quite warm. By the time I got to Trail Crest, I was wearing a long-sleeve base layer and a wind shirt, and was still freezing and worried about hypothermia. I probably should just descent to Guitar Lake, but my ego got the better of me. I put my backpack down and marched towards the summit. Half way up, it started snowing. Soon it turned to a blizzard. By the time I arrived at the top, I couldn't see a thing. I snatched a few pictures and rushed down. I almost lost the trail because of the poor visibility.
It took me 2 hours to get down to Guitar Lake. I was really exhausted after the long day, and passed out in my tent after a quick dinner.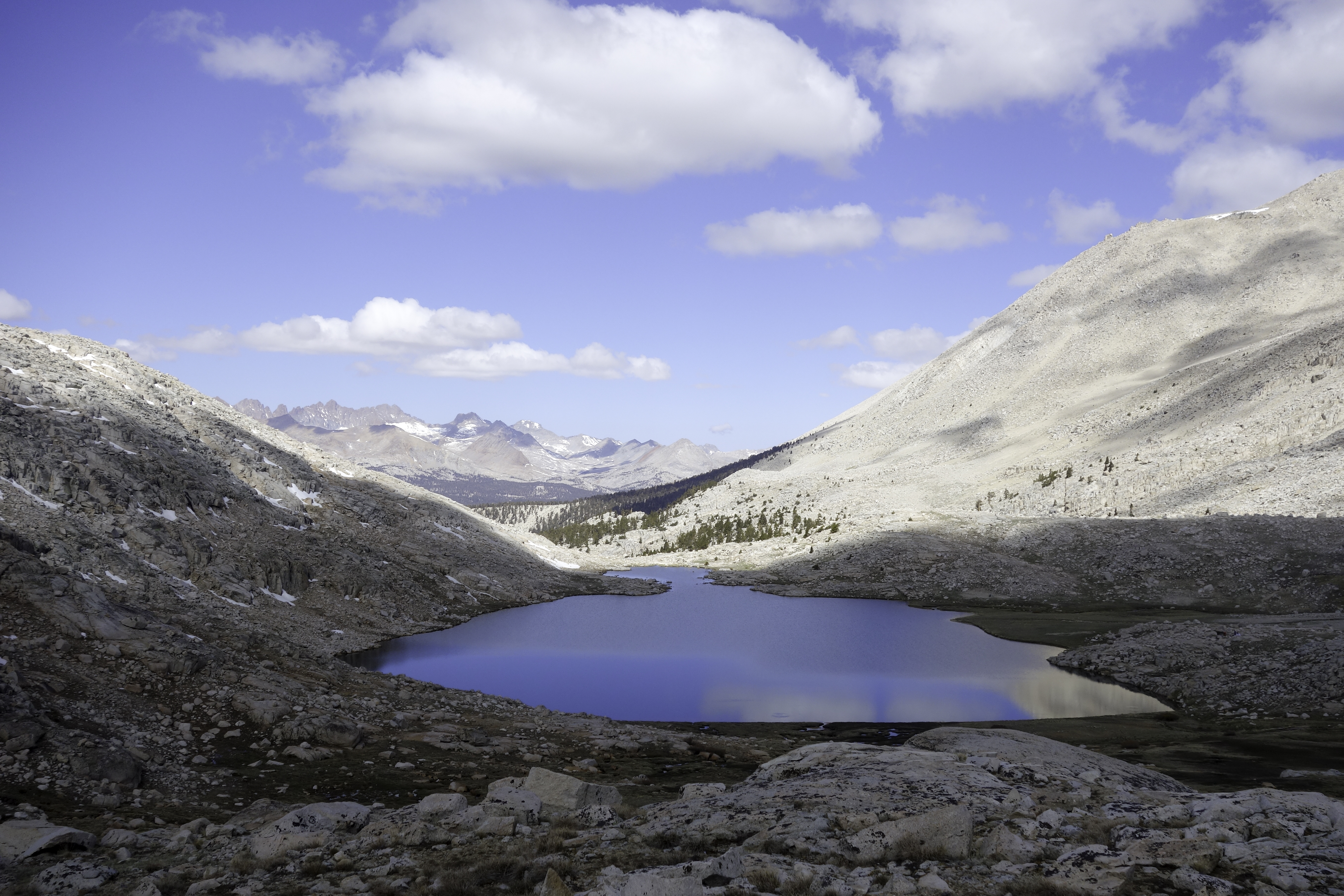 Forester Pass
Second day was a low mileage day. I had a headache the previous night, and thought it was a symptom of altitude sickness. Turned out it was just dehydration. I drank some water, had a good sleep and woke up at 8.
The trail was mostly flat and fairly easy for this section. I arrived at camp around 3 in the afternoon. Having just experienced a full-scale whiteout at Whitney, I decided to call it a day and leave the pass for the next day.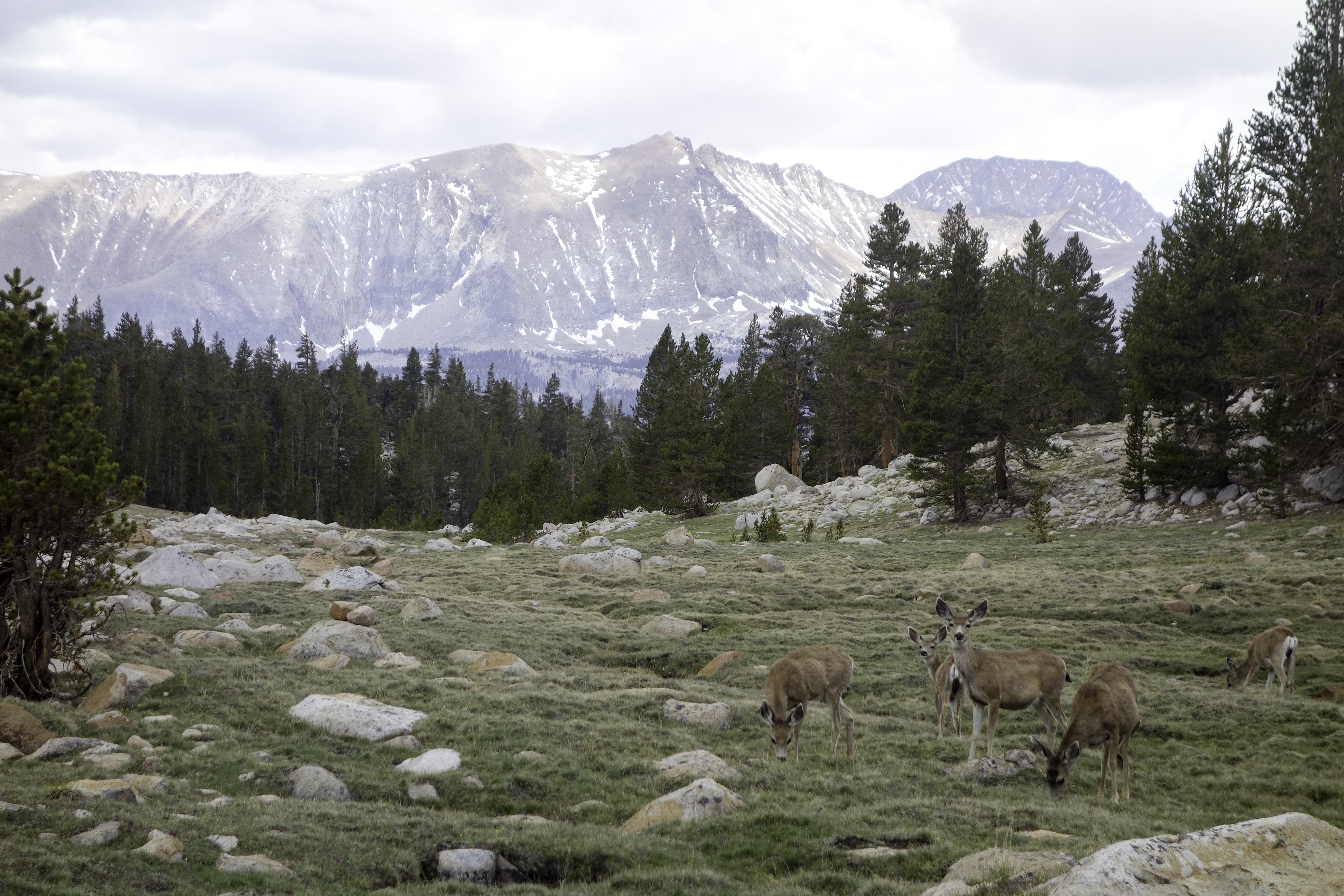 On Jun. 8th, I got up slightly earlier at 7 am, but still one of the last. The PCT hikers were long gone by the time I stepped out of the tent. At over 13,000 feet above sea level, Forester Pass is the highest point on JMT. It was relatively easy from south, but still it involved a long and steep 2 hour climb. The view at the top was magnificent. It was one of the highlights of this trip.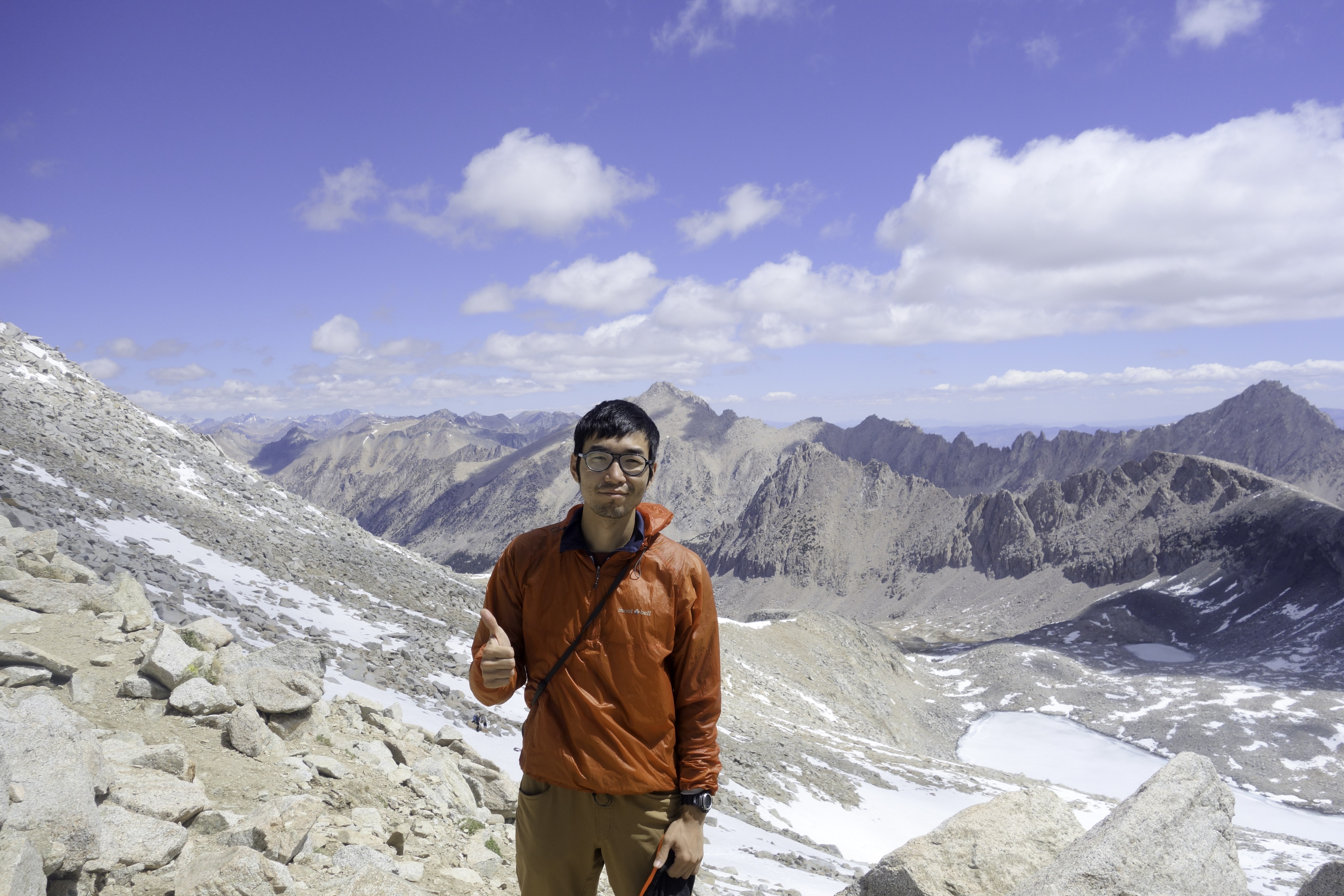 North face of the pass still had quite a bit of snow. But there were already a few paths left by earlier JMT and PCT hikers, so crossing those snow fields wasn't a big issue.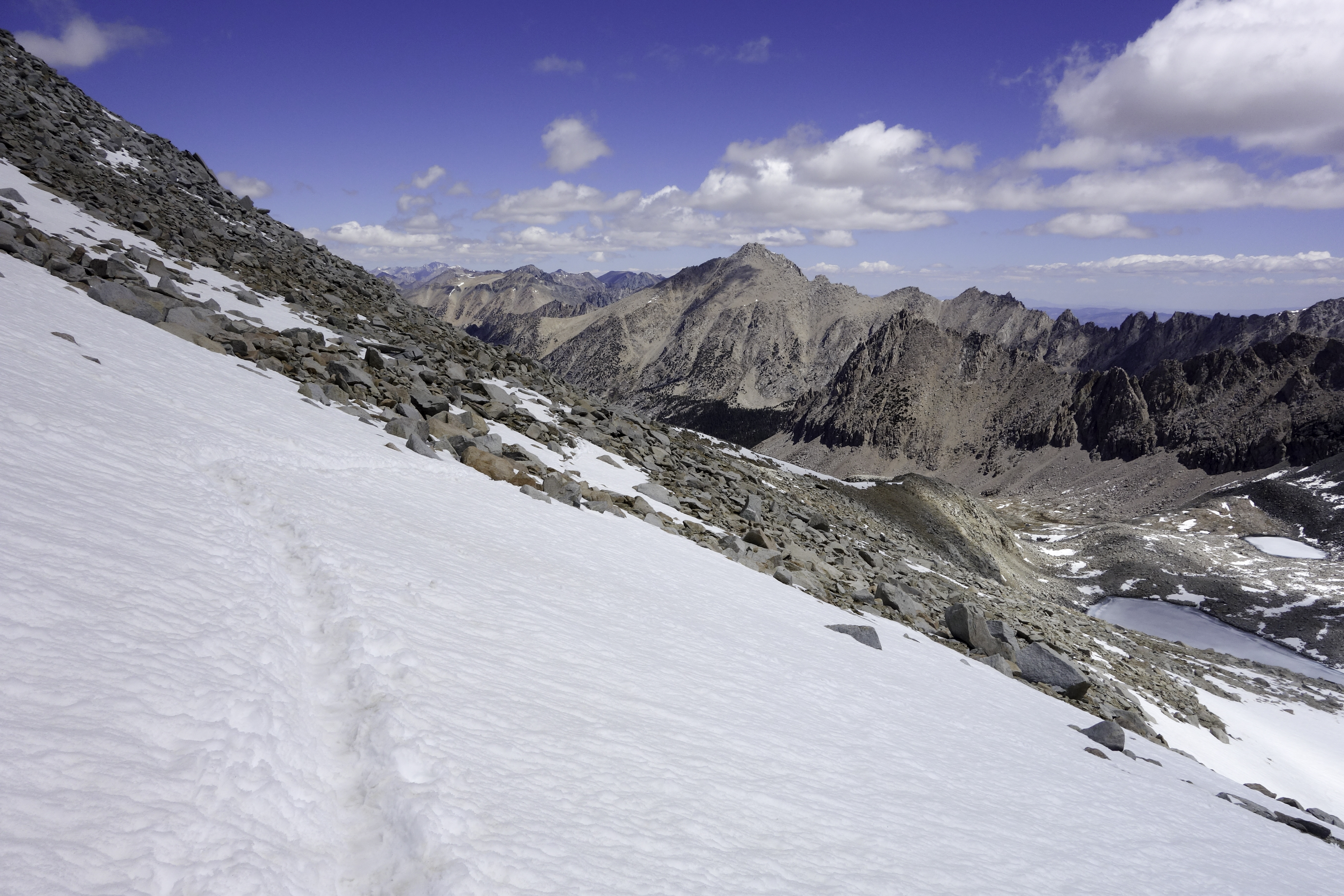 Road's End/ Cedar Grove
It was all downhill from Forester pass. Last campsite is about 4 miles before Road's End. As it was getting late, I settled down at the site, and met a few hikers doing the Rae Lakes Loop. Really friendly folks. They gave me some of their food. The next day I hiked a couple miles of switchbacks and reached Road's End at 9 am. Nearest resupply point Cedar Grove is another 5 miles away on paved road. Hitchhiking shouldn't be difficult. Unfortunately I was out in the morning, and there was little traffic going out. So I ended up walking more than half the distance.
There's a lodge at Cedar Grove, as well as a small restaurant and a general store. It would be a nice place for a rest day but I was in a hurry. So I bought some trail mix and snicker bars, and hitched a ride back to Road's End.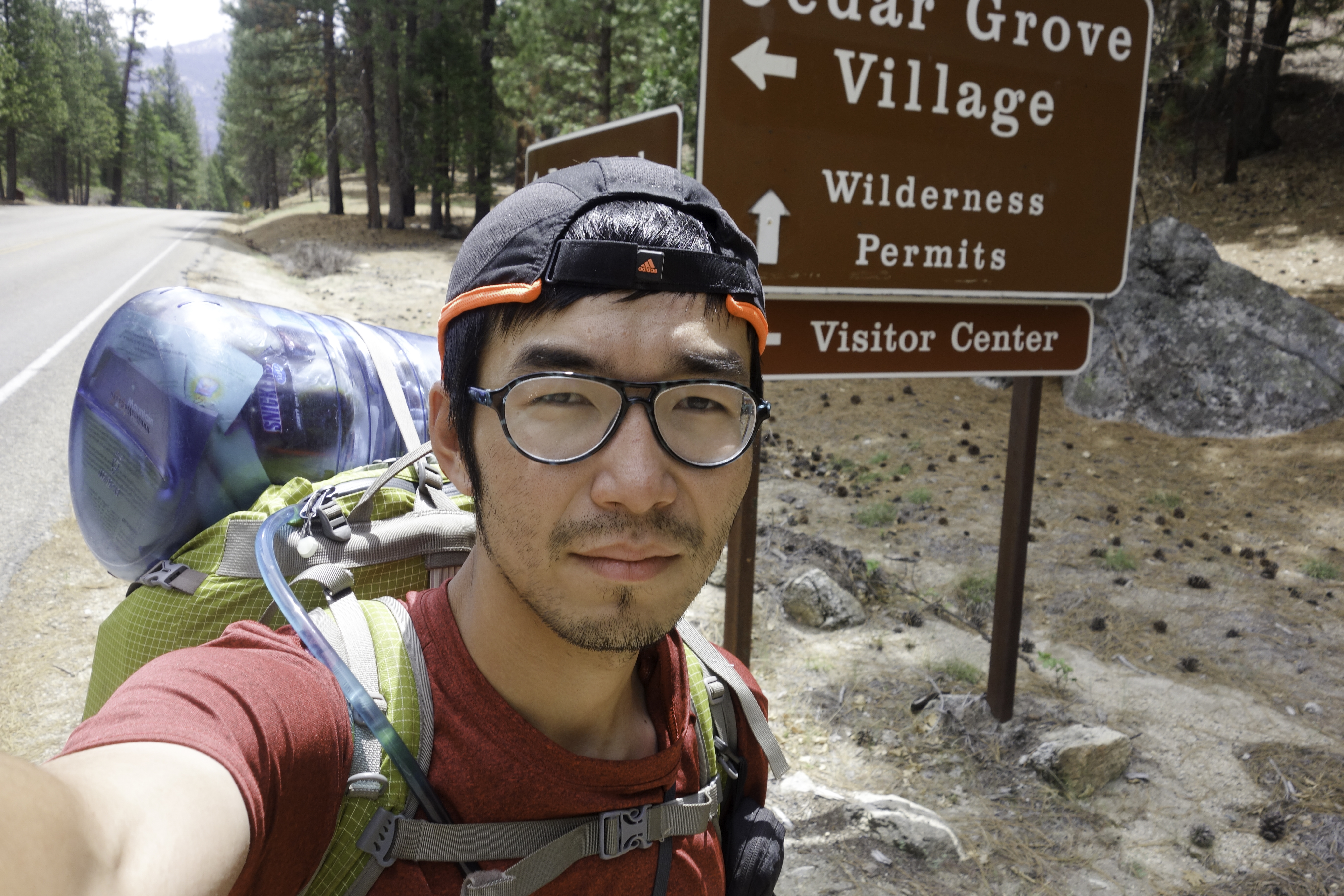 ---