Two weeks after I quit my job in 2014, I went to Nepal to hike the world-famous Everest Base Camp Trek (EBC).
The Capital
On Apr. 7th, I arrived by plane from Shanghai, with a transfer at Kunming. The flight was smooth until the landing, when the plane suddenly pulled back up just before the wheels hit the runway. After hovering for another 15 minutes, the plane finally landed safely.
Like most other tourists, I booked a hotel in Thamel. Thamel is a chaotic little district packed with hostels, restaurants and shops that serve almost exclusively to tourists. It is truly cosmopolitan with tourists coming from all around the world and merchants there speak English, French, Chinese like natives.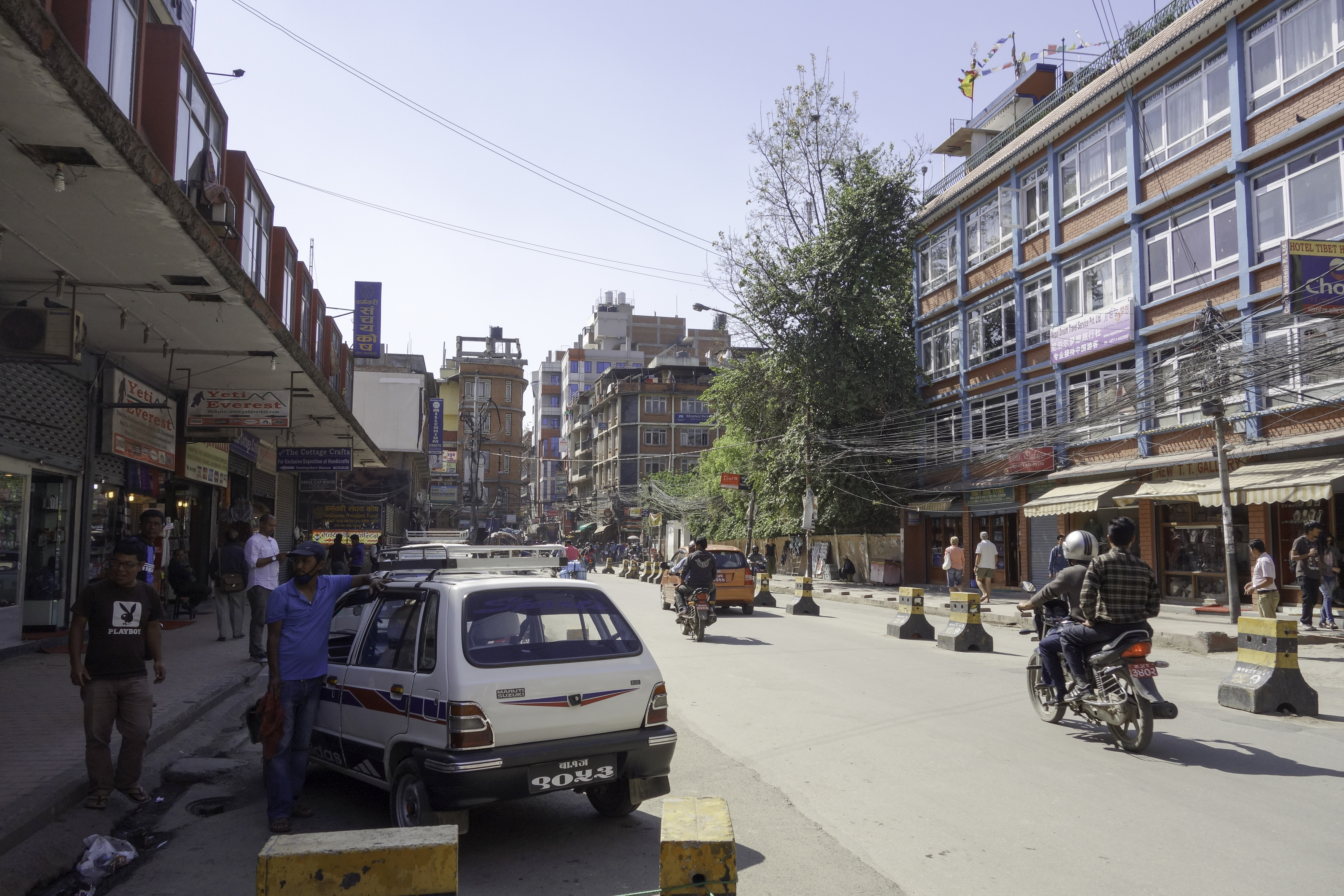 There's no traffic light in Kathmandu, nor do drivers have any idea about "lanes". It's a nightmare to cross the street. I had to follow a Nepali every time I tried to cross.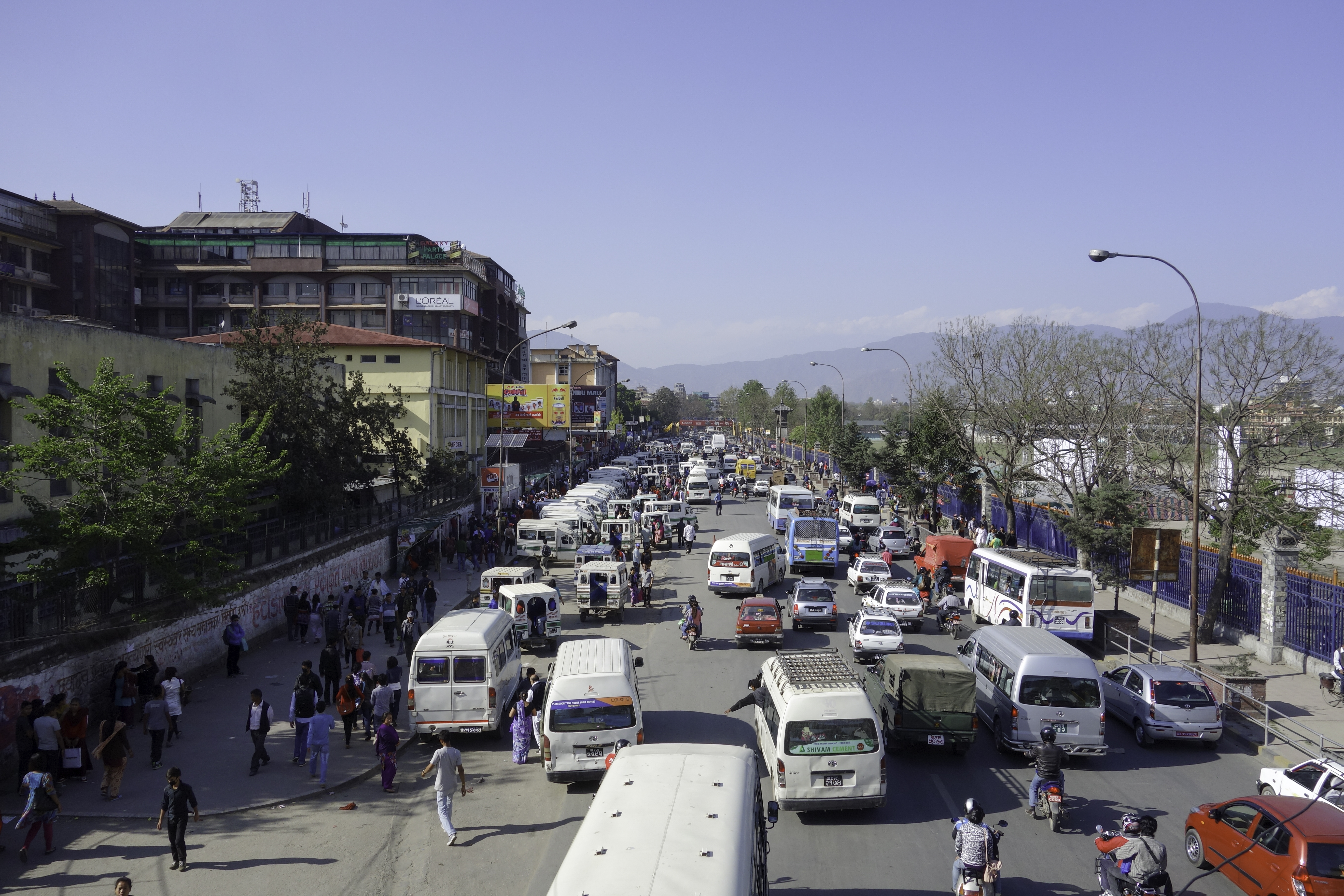 The Bus
Every morning, there are several buses to Jiri. The 8:30am bus will continue for another 2 hours to Shivalaya after Jiri.
Bus fare is around 600 rupees(USD $6). Compared to the $150 flight to Lukla, the bus is a great bargain. But you get what you pay for. Most of the roads outside Kathmandu are unpaved. Even though Jiri is less than 250km away, the bus ride takes 8-10 hours. At the second half of the trip, the bus would stop from time to time and pick up locals. It would soon get overloaded.
Tip:
Your seat will be assigned when you purchase the ticket. Window seats are the bad seats. As the bus bumps, your shoulder would constantly bang on the window. It would get quite painful after a few hours.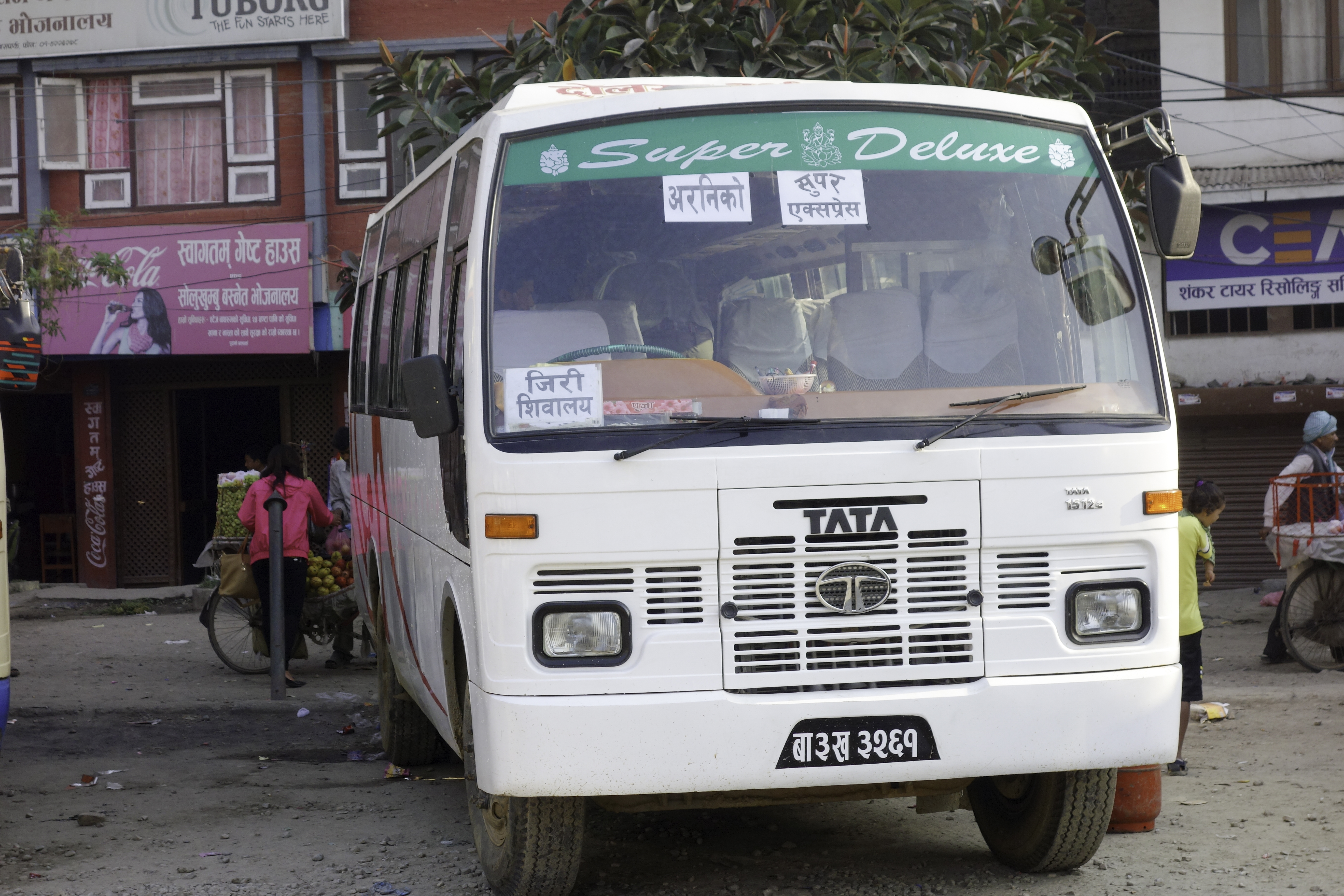 Shivalaya - Lukla
Welcome to Kyrat!
At 2100m above sea level, Shivalaya is about the same altitude as the hypothetical village of Banapur in Far Cry 4.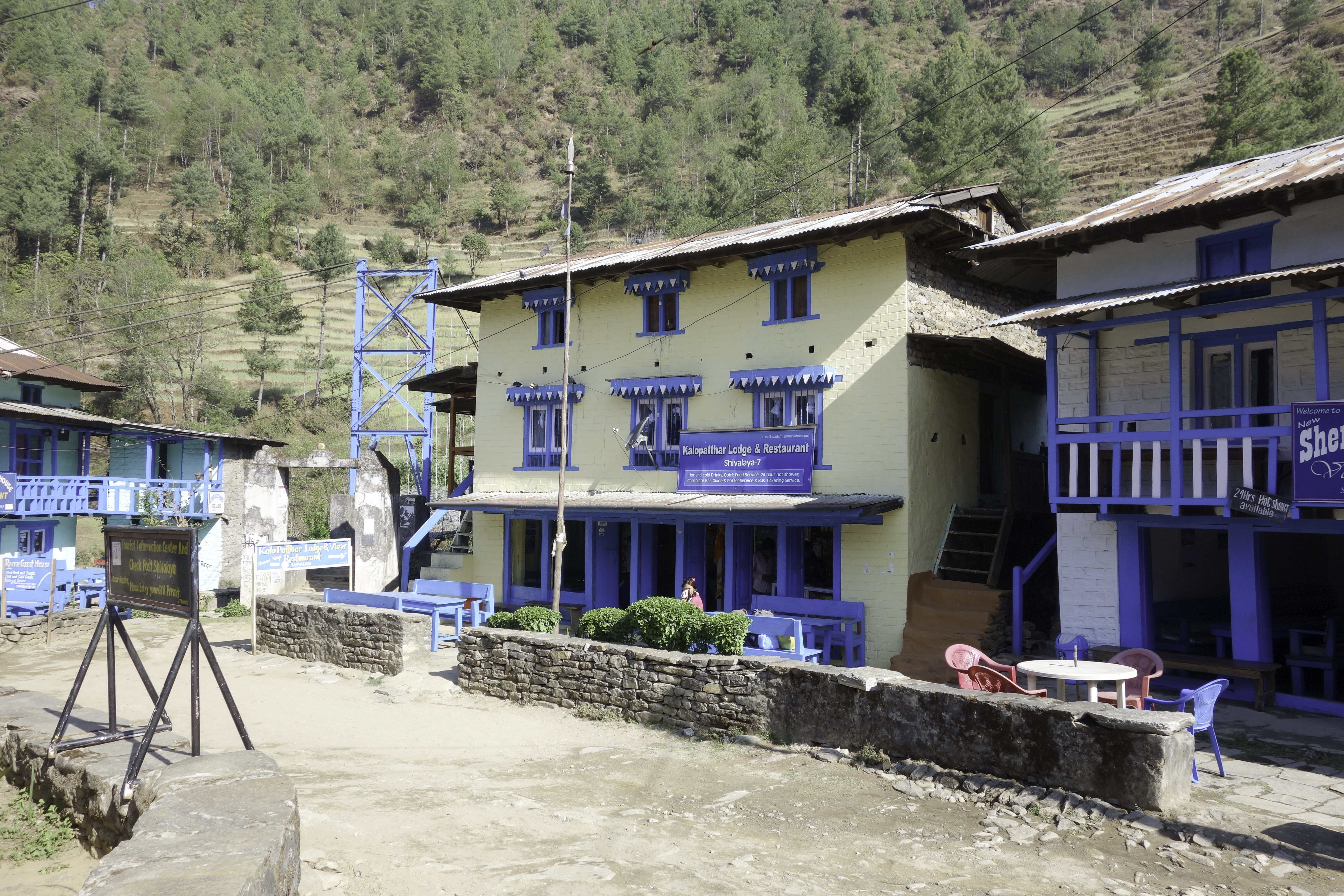 Unlike in Banapur, Ama Dablam is not visible from Shivalaya. You won't get your first glimpse at the snowy mountain ranges until Jumbesi. First sight of Ama Dablam will have to wait till Tengboche.
There are fewer trekkers and people you meet on the trail are mainly locals. In a few lodges, I was the only person to stay there, and I really enjoyed the peacefulness. Day by day, the mountains were getting closer. Even though none of the mountain views are epic, this section is a great appetizer that builds up your anticipation of what lies ahead.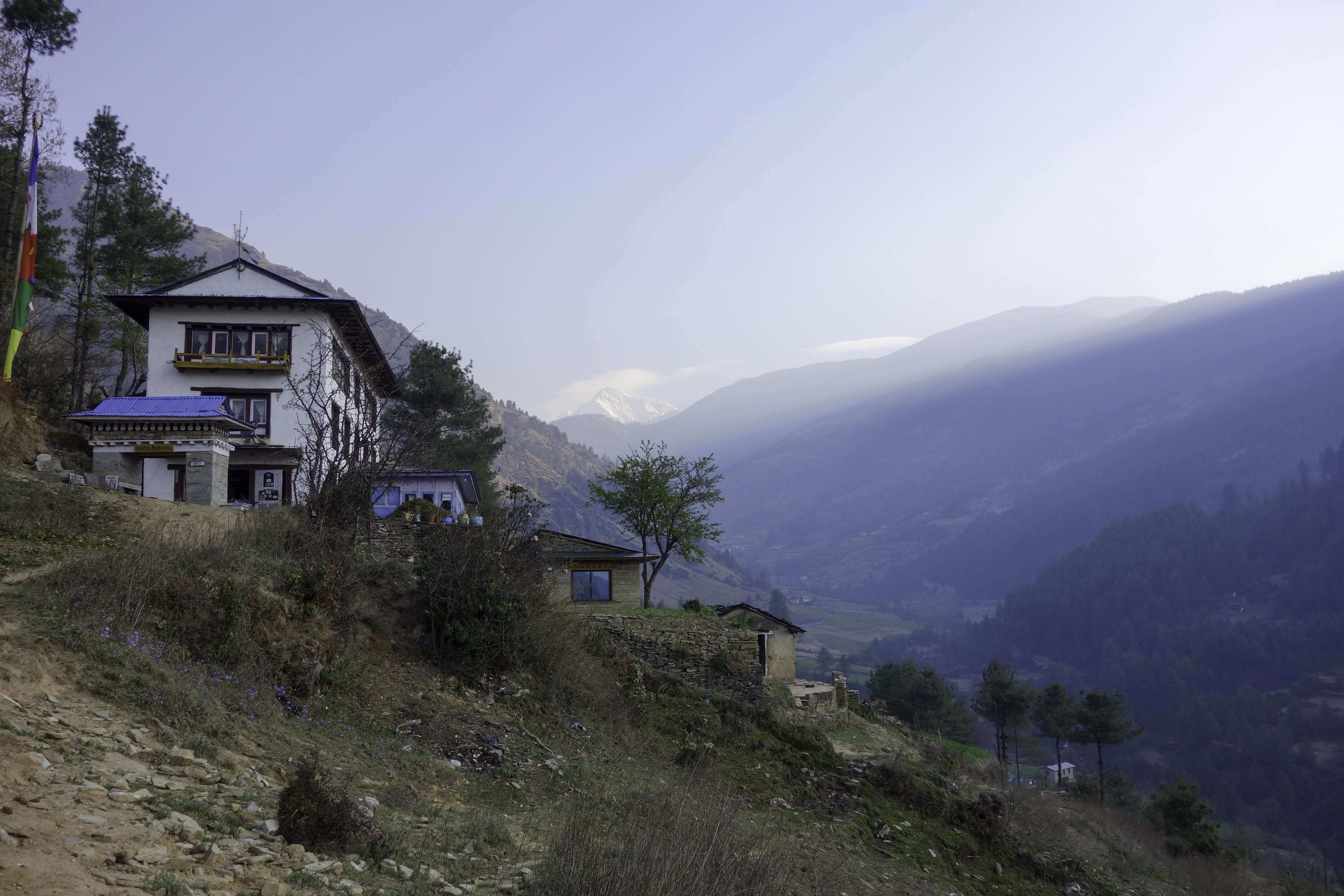 Tip:
Enjoy a bottle of beer at Kenja. Beer prices more than double after that.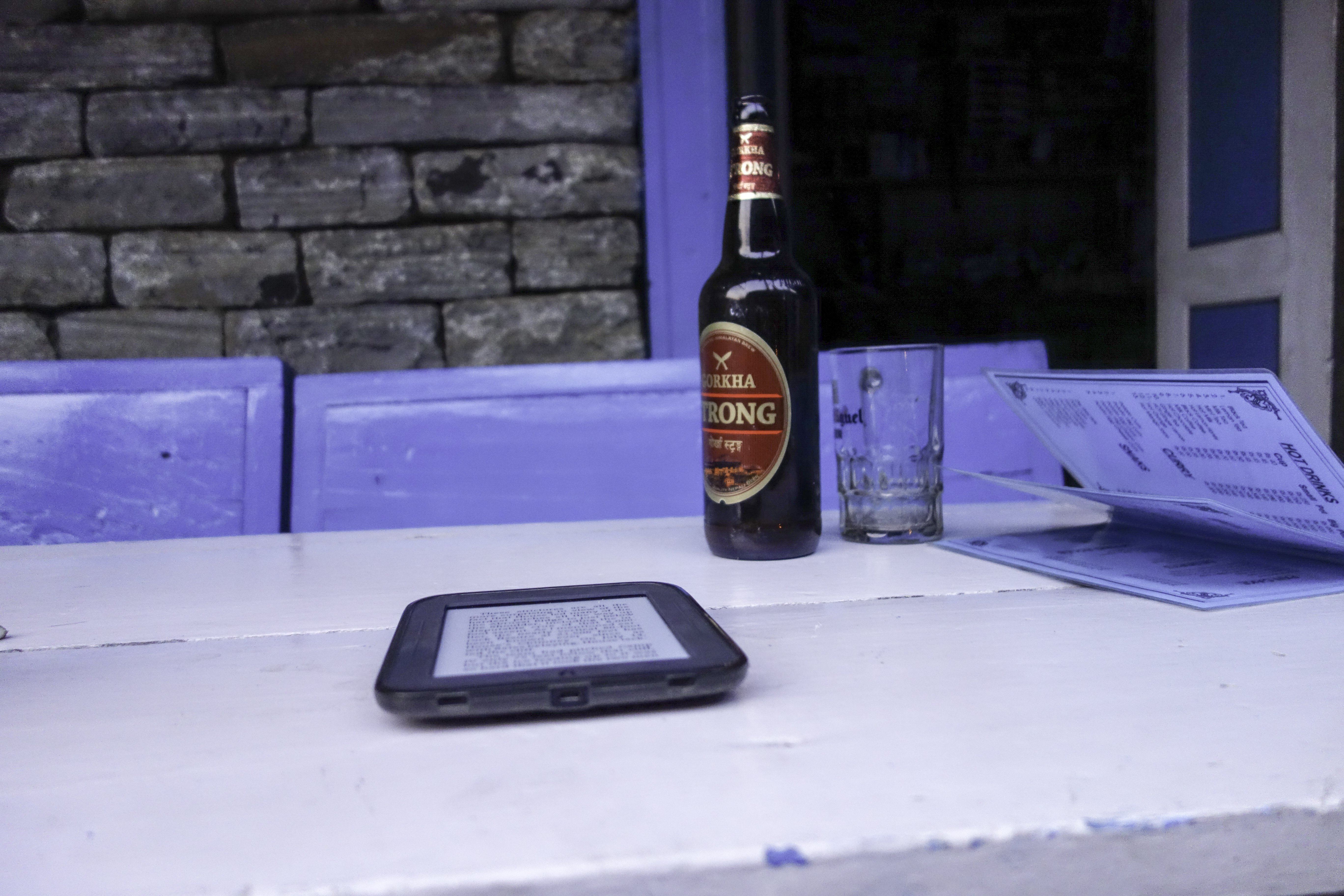 Lukla to Chukhung
At Lukla, I joined other trekkers who arrive by plane. Lukla airport is said to be one of the most dangerous in the world. Statistically, it's perhaps not that bad.
Because of the risk of altitude sickness, it is advised to start slowly and take 2 days from Lukla to Namche. I did it in one day because I felt I was in good shape after the warm-up trek from Shivalaya. Plus the towns in between are about the same altitude as Lukla, so I figured that resting in those villages would not be very helpful.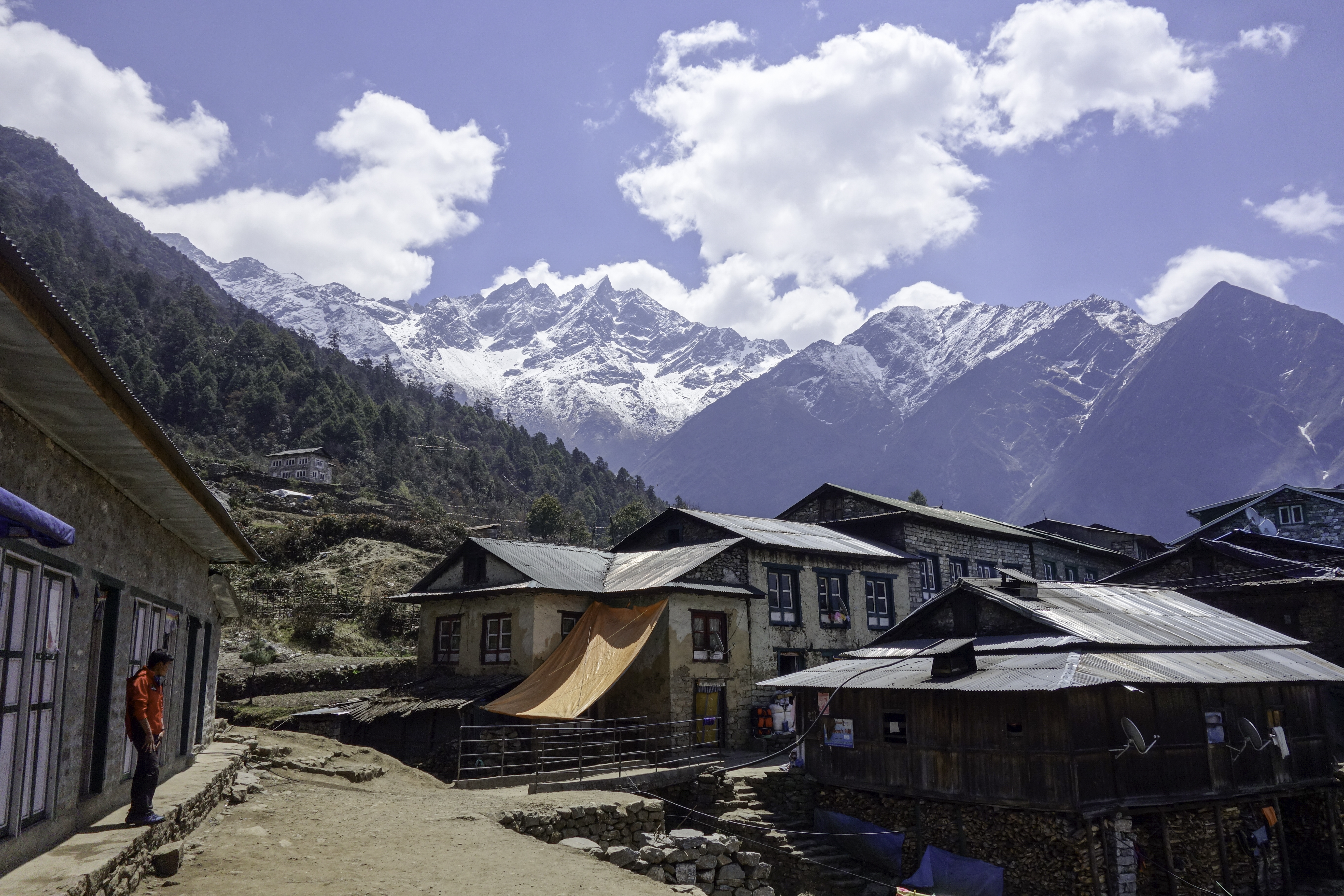 Unofficial capital of Khumbu region, Namche is the biggest establishment on the whole trek. There are more than 50 lodges and a few dozen restaurants and cafes. More are still being constructed. Most people, me included, spent two nights in Namche to acclimatize. The second day I took a stroll around Shyangboche and Khumjung village nearby.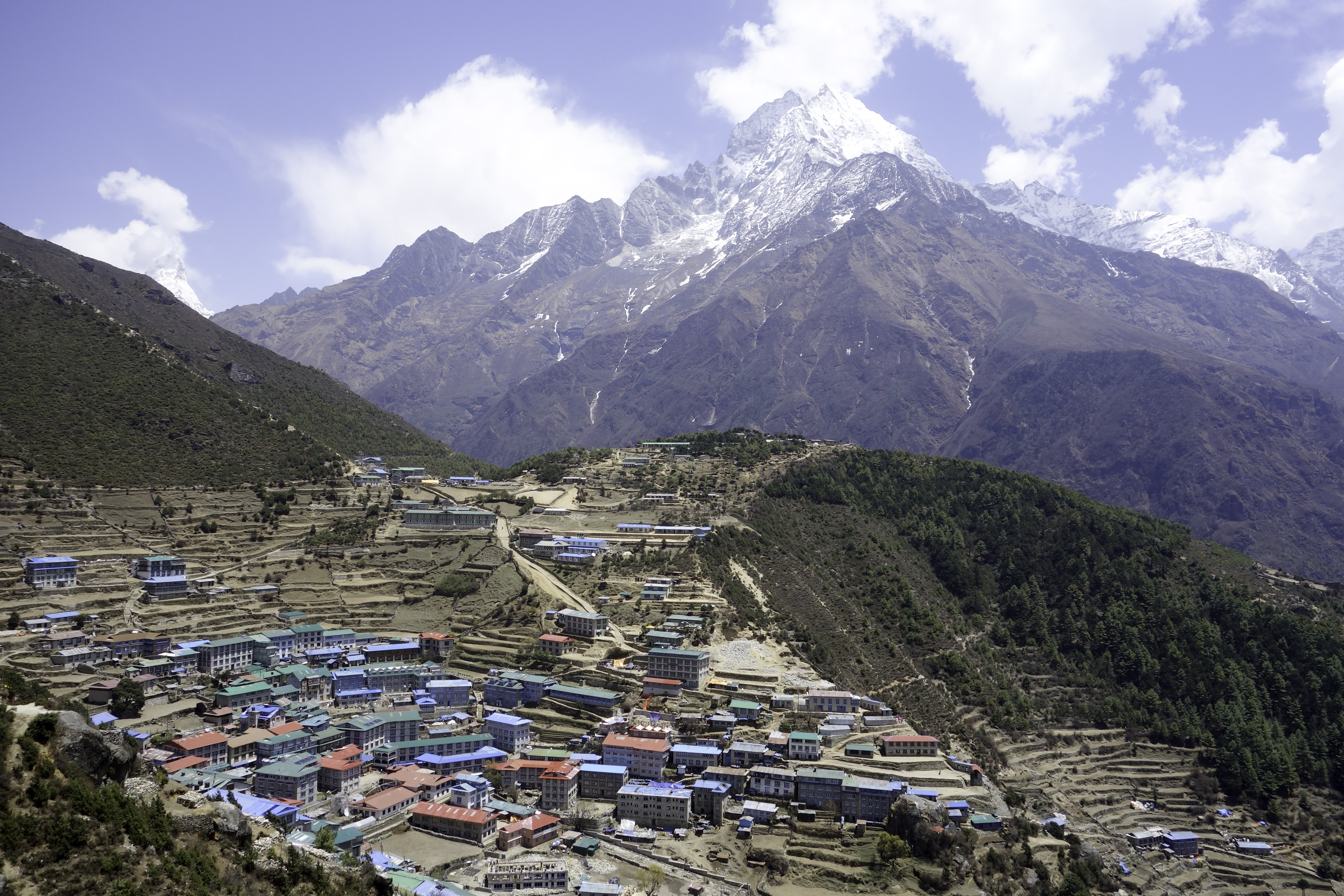 On Apr. 18th, I set off towards Tengboche. Tengboche is a small village sitting at 3900m above sea level. It has only a couple of lodges, and may fill up if you arrive late. So make sure you walk faster than those large tourist groups! There's a large monastery in the village and a volleyball court(!). I probably shouldn't, but I couldn't resist the temptation of volleyball, and joined the monks and Sherpas in the game. They were actually decent players and they stick with "3-hits". Playing at this altitude was not easy though. 10 minutes into the game and I was breathing heavily and my heart beat like a drum.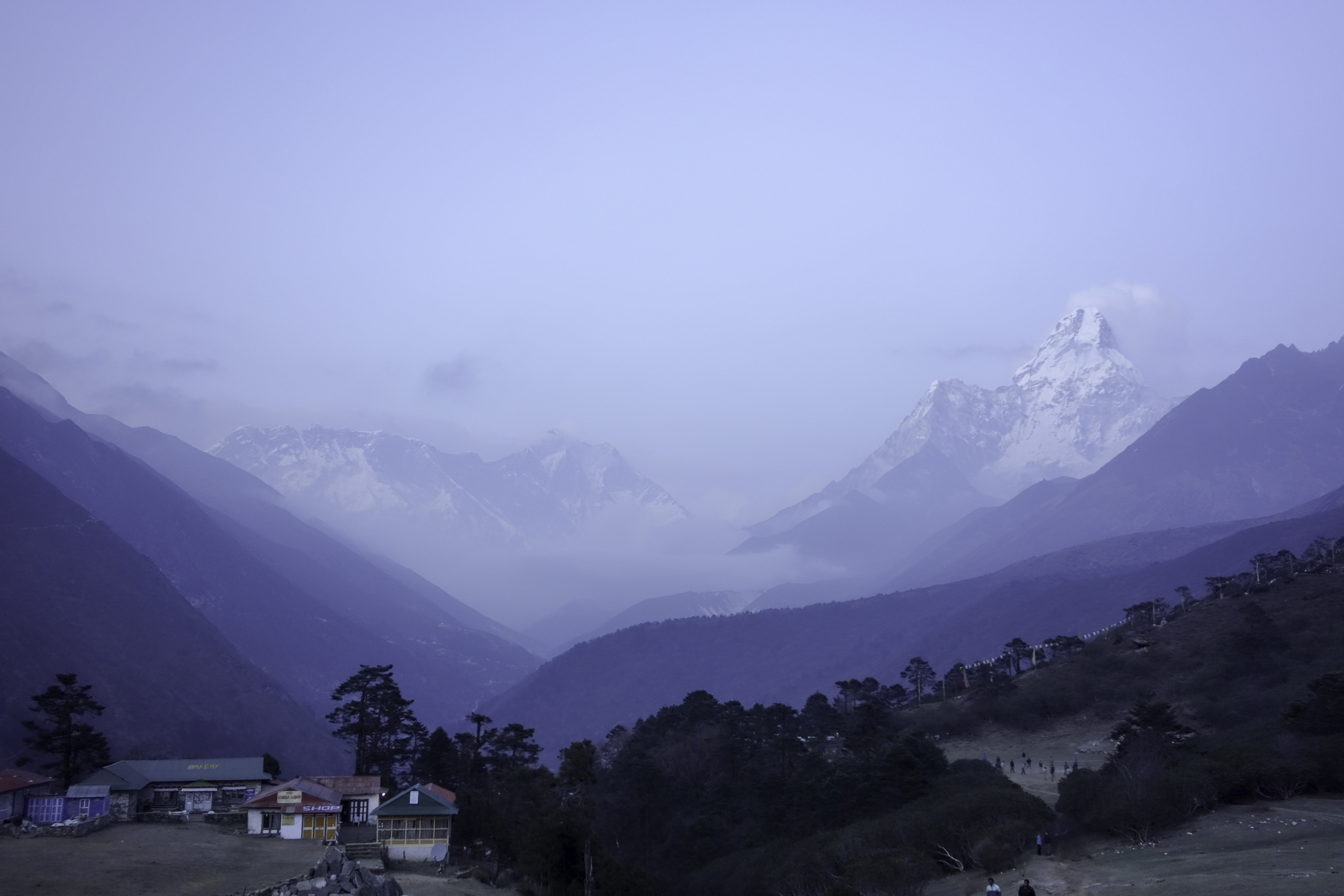 Next day I ascended another 600m and walked to Dingboche (4400m). After turning into Imja valley, the trek rises over tree line (around 4000m). Immediately after that, it started hailing with high wind. It was with great relief that I reached Dingboche 2 hours later. Dingboche is a nice town that has plenty of lodges. Pick one that is above the main street to get a better view of Ama Dablam and other peaks.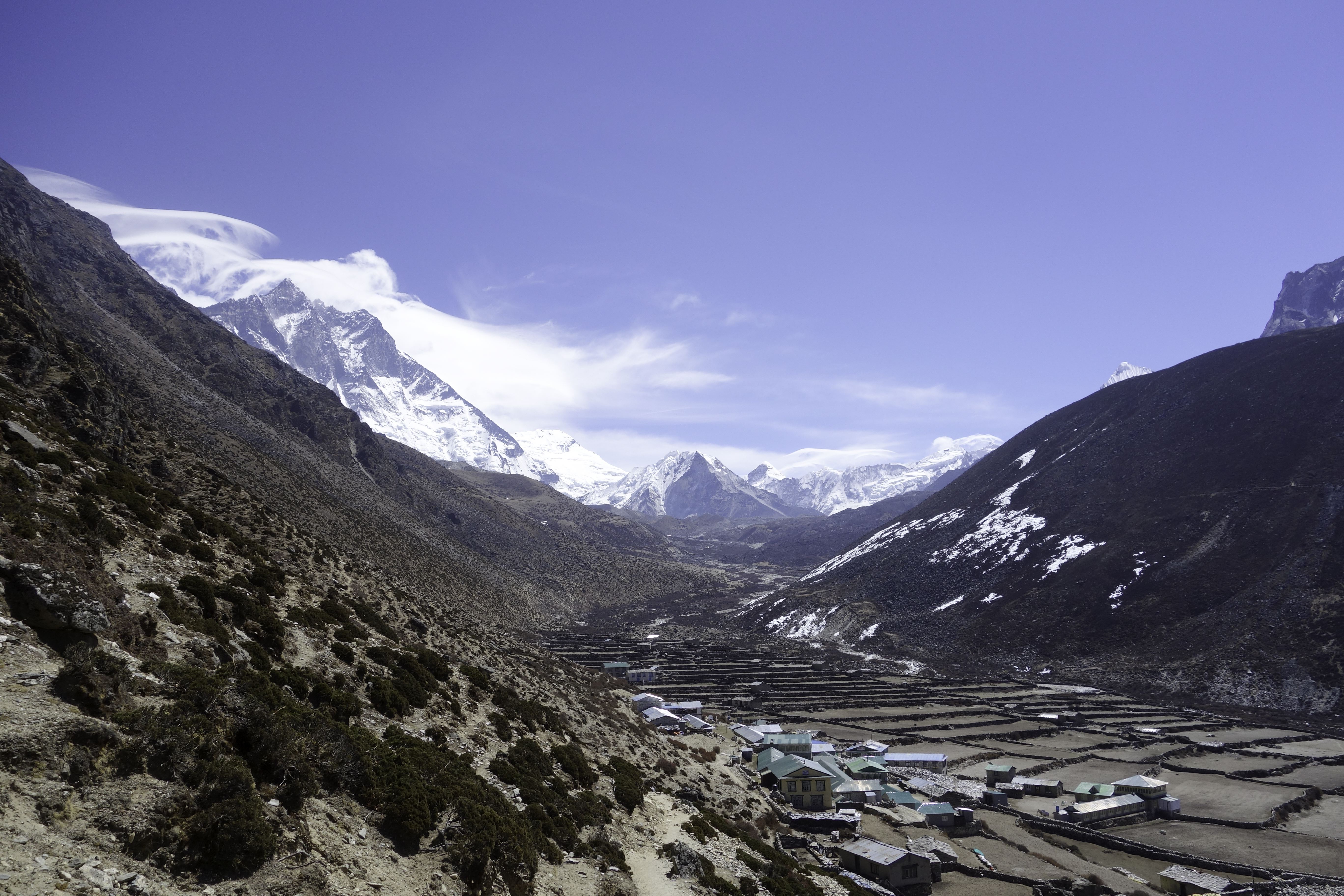 It is recommended that you spend at least one rest day in Tengboche or Dingboche, as altitude increase is really significant. The next morning I climbed Dingboche Ri. For the first time I climbed over 5000m, and the view of Ama Dablam was so marvelous that I almost cried.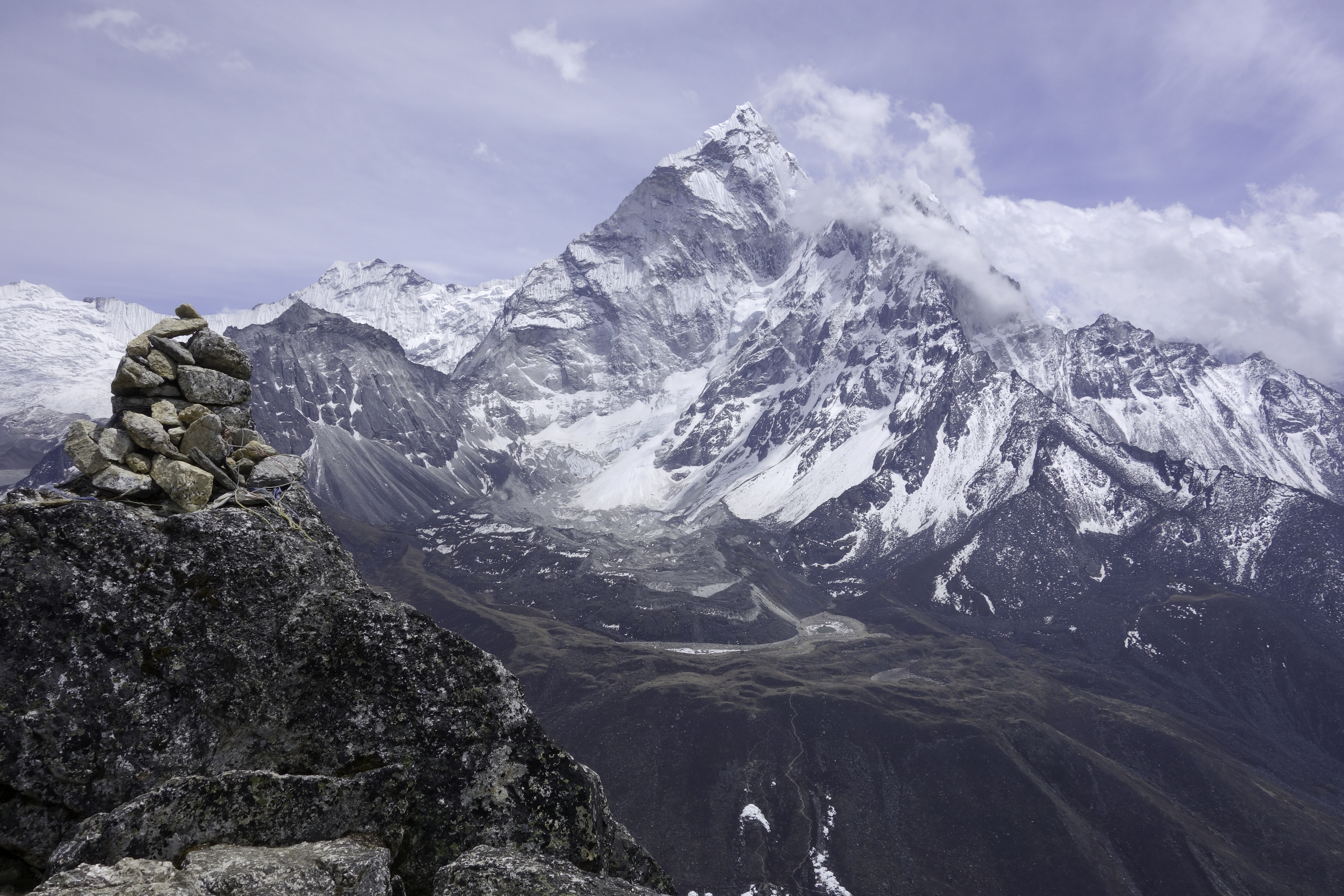 On Apr. 21st, I arrived at Chukhung(4900m) after a short walk of two hours. Chukhung is the barest village on the trek. There are just 3 lodges and nothing else. Most people come there to climb Island Peak, the most popular trekking peaks in Nepal. I spent the rest of the day lying on the dining room coach reading. The next day I climbed Chukhung Ri to acclimatize.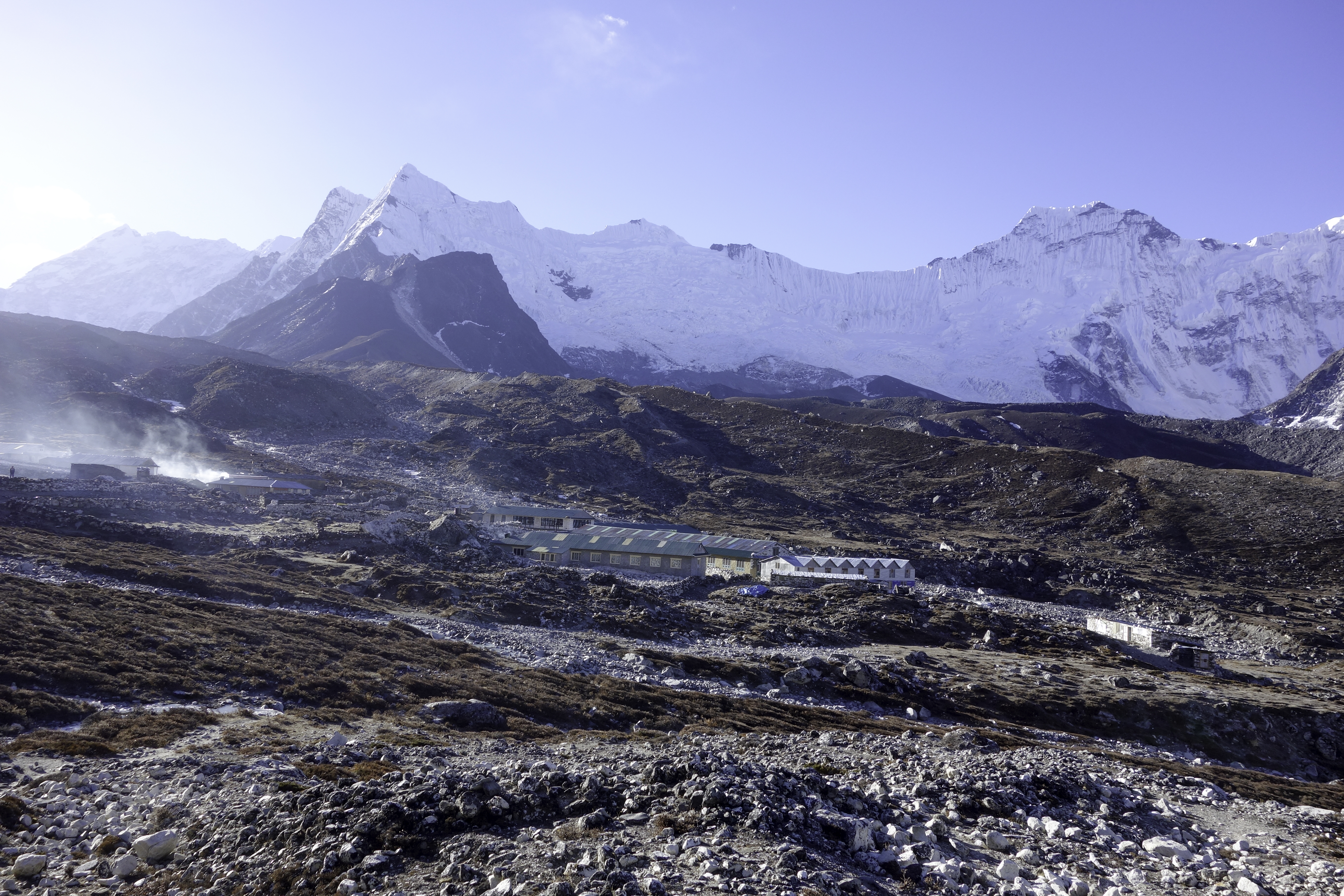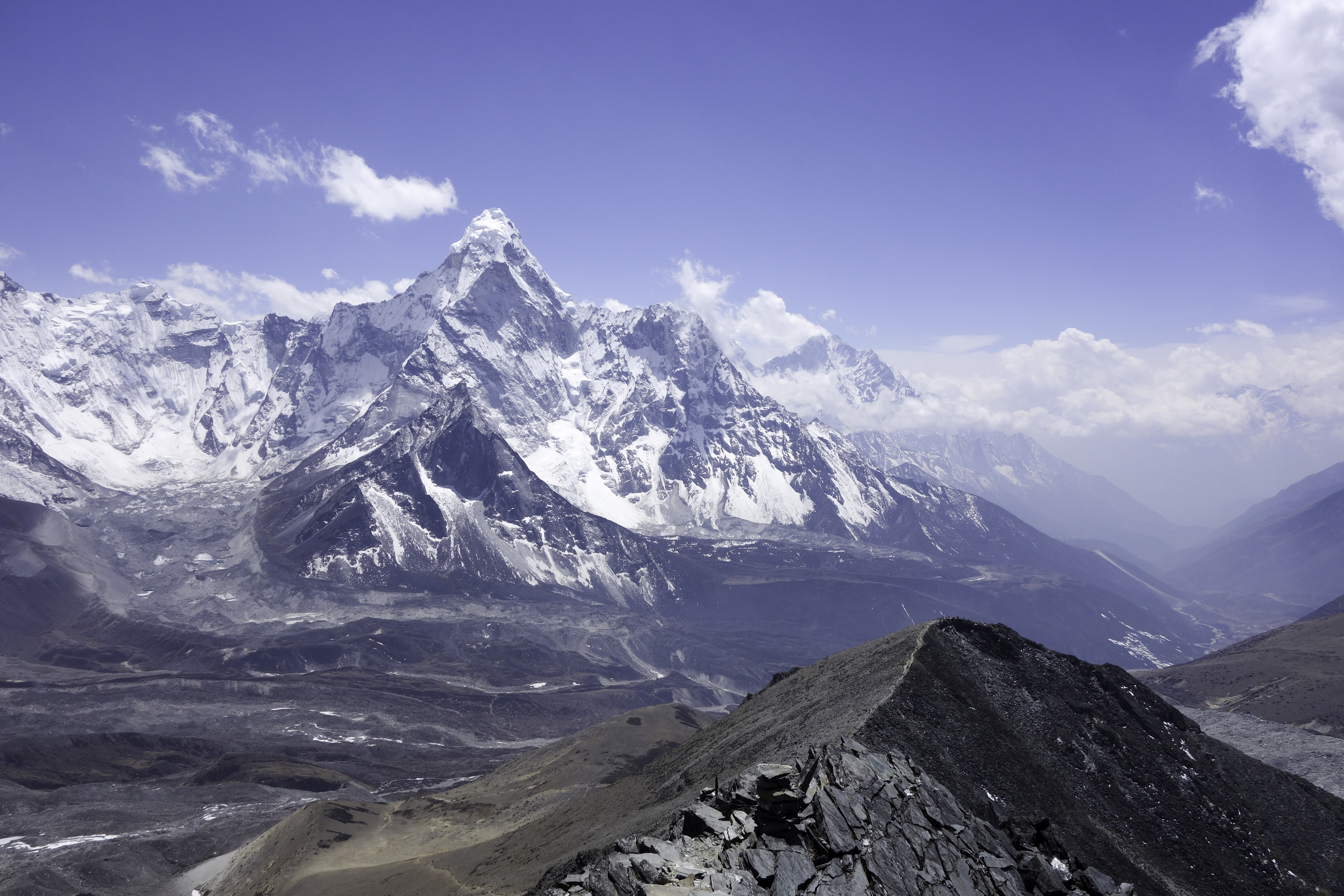 On Apr. 23rd, I set off to cross Kongma La pass.
Kongma La
Kongma La is a 5600m pass that links Chukhung with Lobuche. It is widely regarded as the hardest of the three passes. There's no establishment between the two villages, so make sure you start early in Chukhung.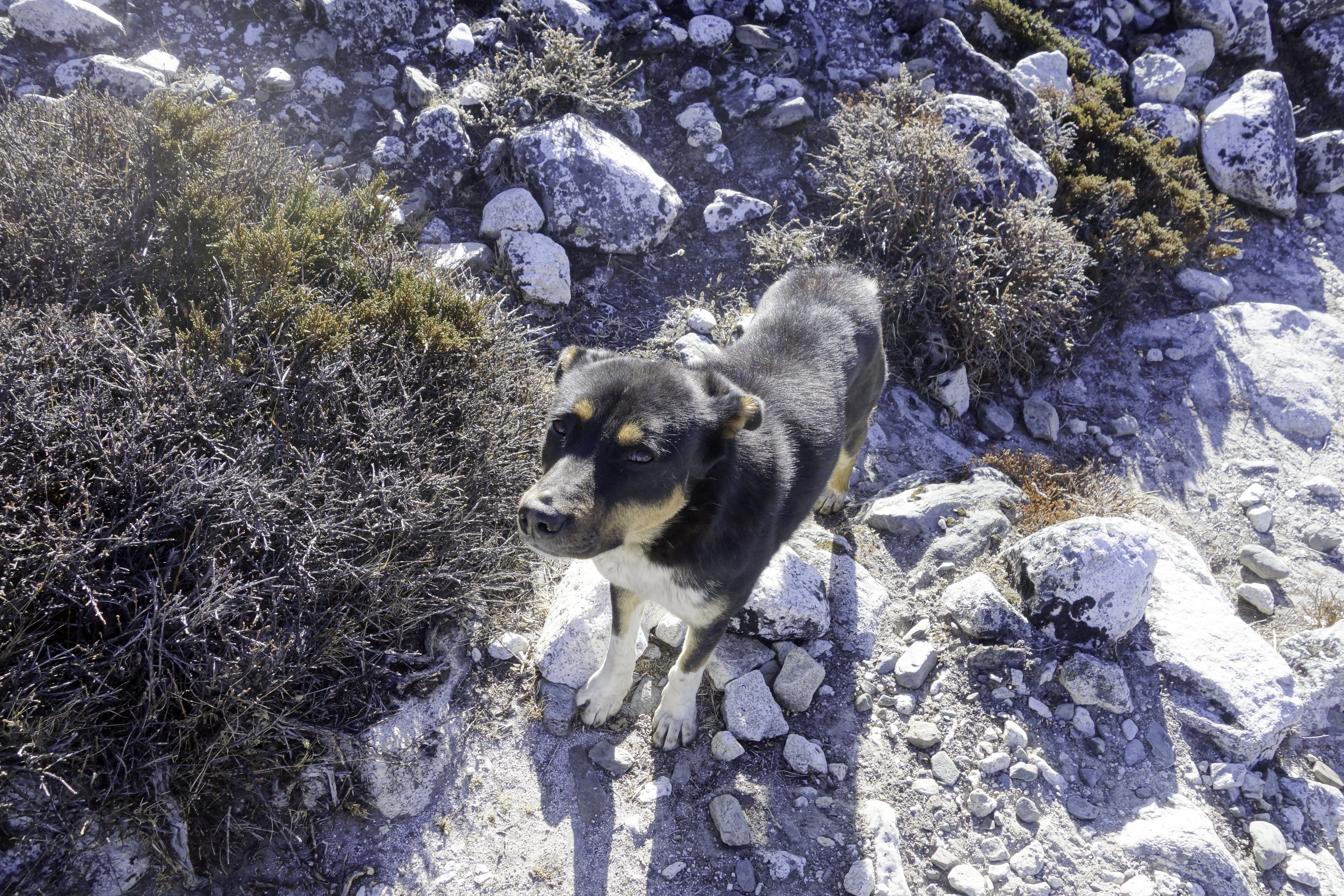 The hike to the top of Kongma La would take 3-4 hours. The climb is steep but if weather condition is okay, it is not too hard, just a lot of laboring. The trick I discovered about hiking in high altitude is to walk slowly, take smaller steps but keep moving. If I felt too exhausted, I would just stand there to catch my breath for a minute or two. But I rarely took my bag off. I might lag behind some hikers in the short term, but in the end, I was able to finish in front of them most of the time. On top of the pass, you could clearly see the trail ahead, leading all the way to Lobuche.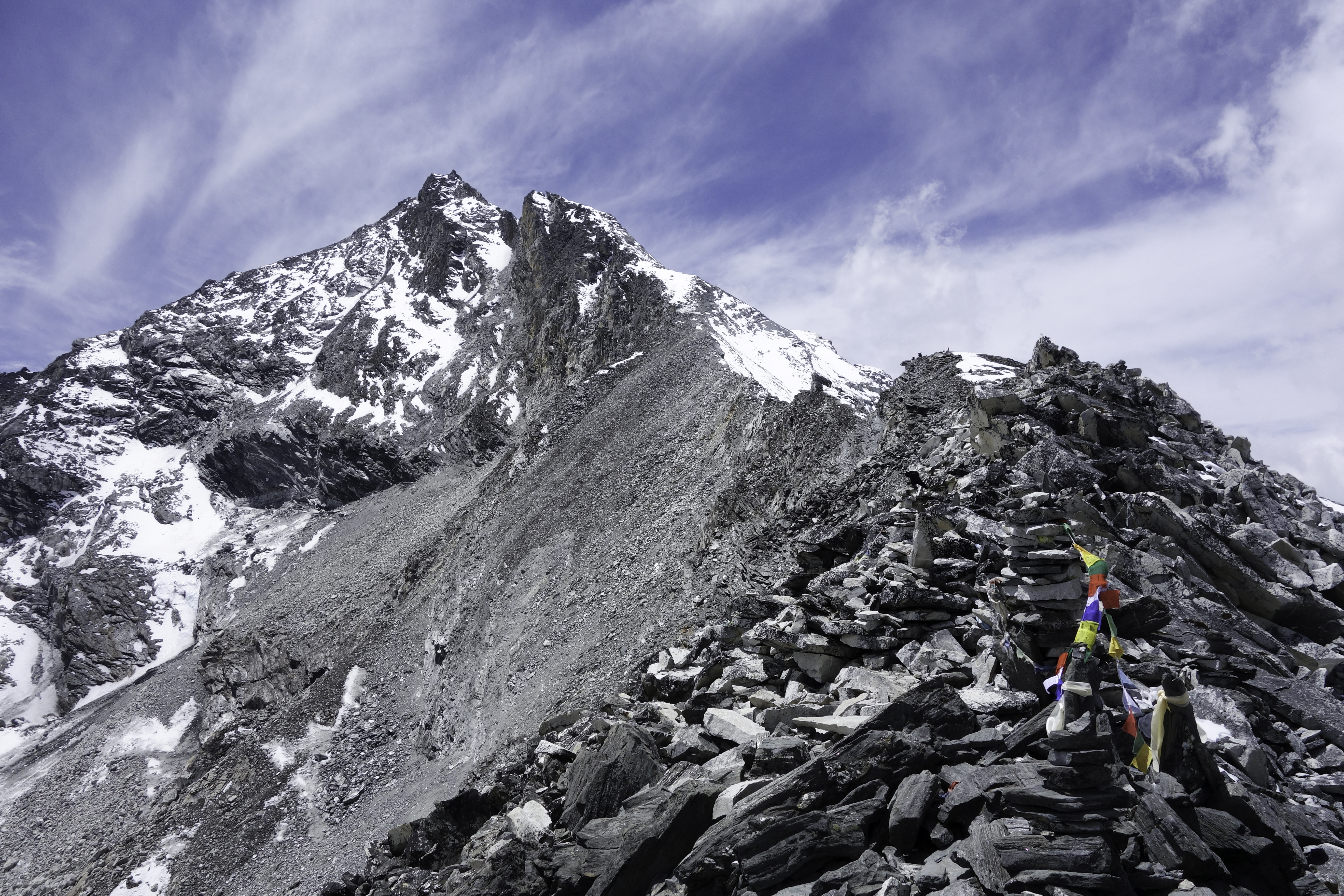 Last obstacle before Lobuche is Khumbu Glacier. According Lonely Planet guidebook, the glacier crossing is marked with cairn. However I failed to spot the cairns a few meters into the glacier, and had to cross it with "brutal force". By that time, it also started snowing, so it wasn't much fun. Fortunately I had some experience crossing glacier in Alaska a year ago (I was trapped in Muldrow Glacier in Denali for more than a day). The trick is to figure out your path before you descend into the bottom. After you start crossing, stick to the direction and walk the hell out of there as fast as you can.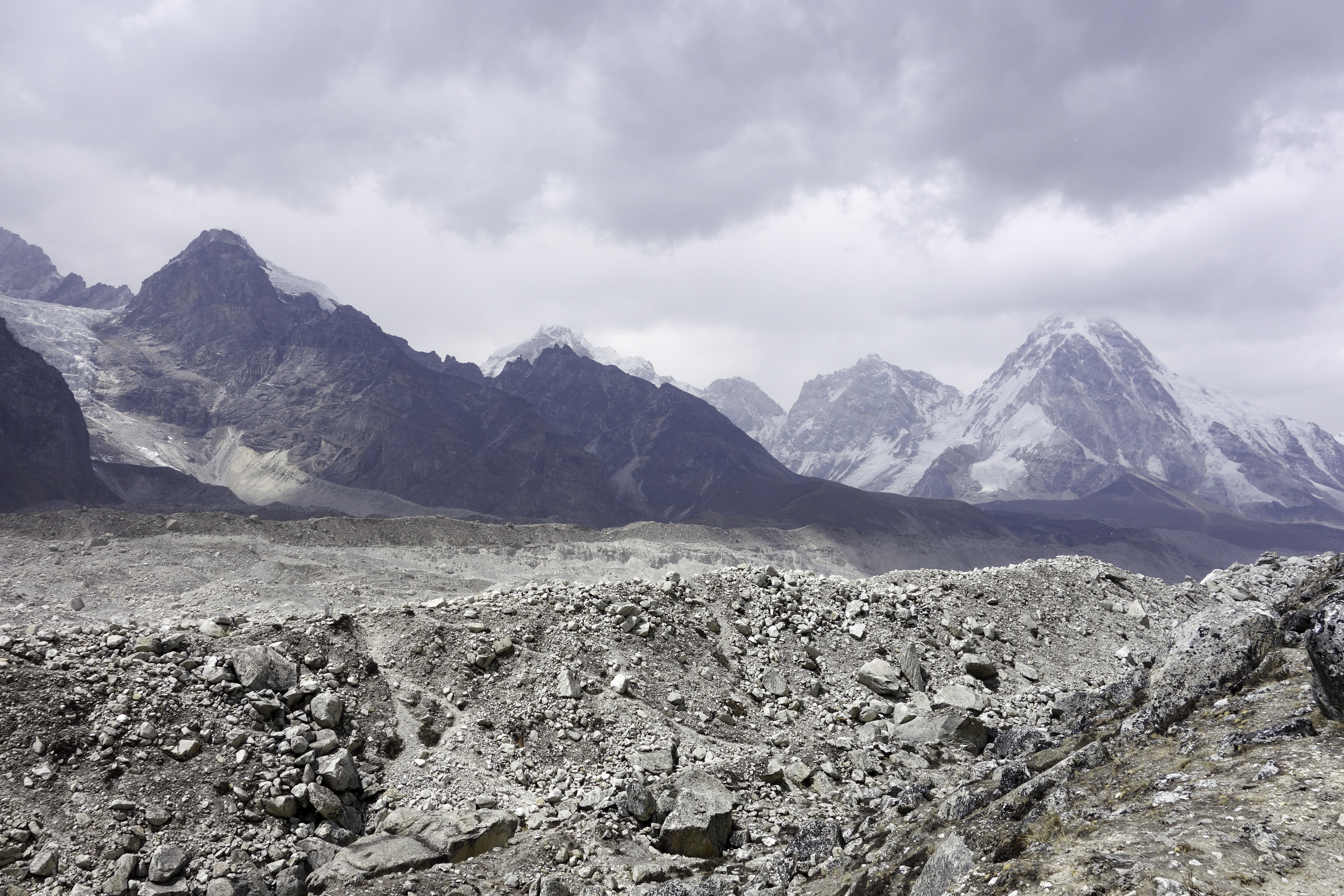 Anyways after the climb out of the glacier, I arrived at Lobuche, the worst place to stay on the entire trek.
Lobuche
Of all the villages I stayed in, Lobuche was the most noisy and chaotic. Most of the trekkers doing EBC would spend at least one night there. My time there also coincided with Everest climbers and their Sherpa supports who were on their way back to Kathmandu as the climbing got canceled after the avalanche . And man, they were not in a good mood. Rooms in the lodges were small and not really sound-proof. Nonetheless, I slept quite well after an exhausting day.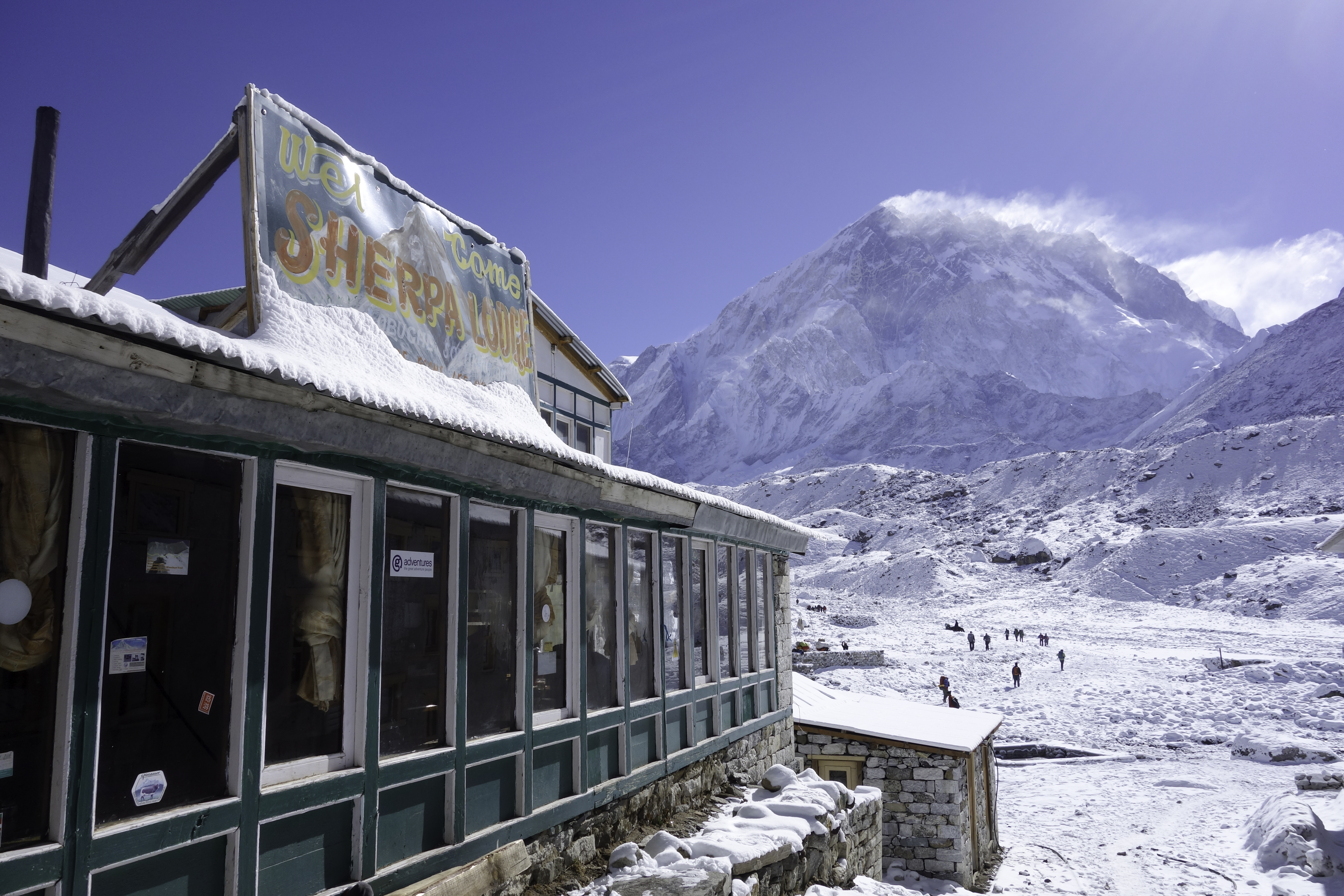 The next day I took a day trip to Kala Patthar, the closest vista point of Everest on the trek. As I wasn't too excited about Everest, I didn't leave Lobuche till 10. After 2 hours, I arrived at Gorek Shep (5100m) at the bottom of Kala Patthar. The breath-taking climb took another 2 hours. By the time I got to the top, the weather was turning bad. Fortunately Everest was not yet blocked by the cloud. I snapped a few shots and hurried back to Lobuche.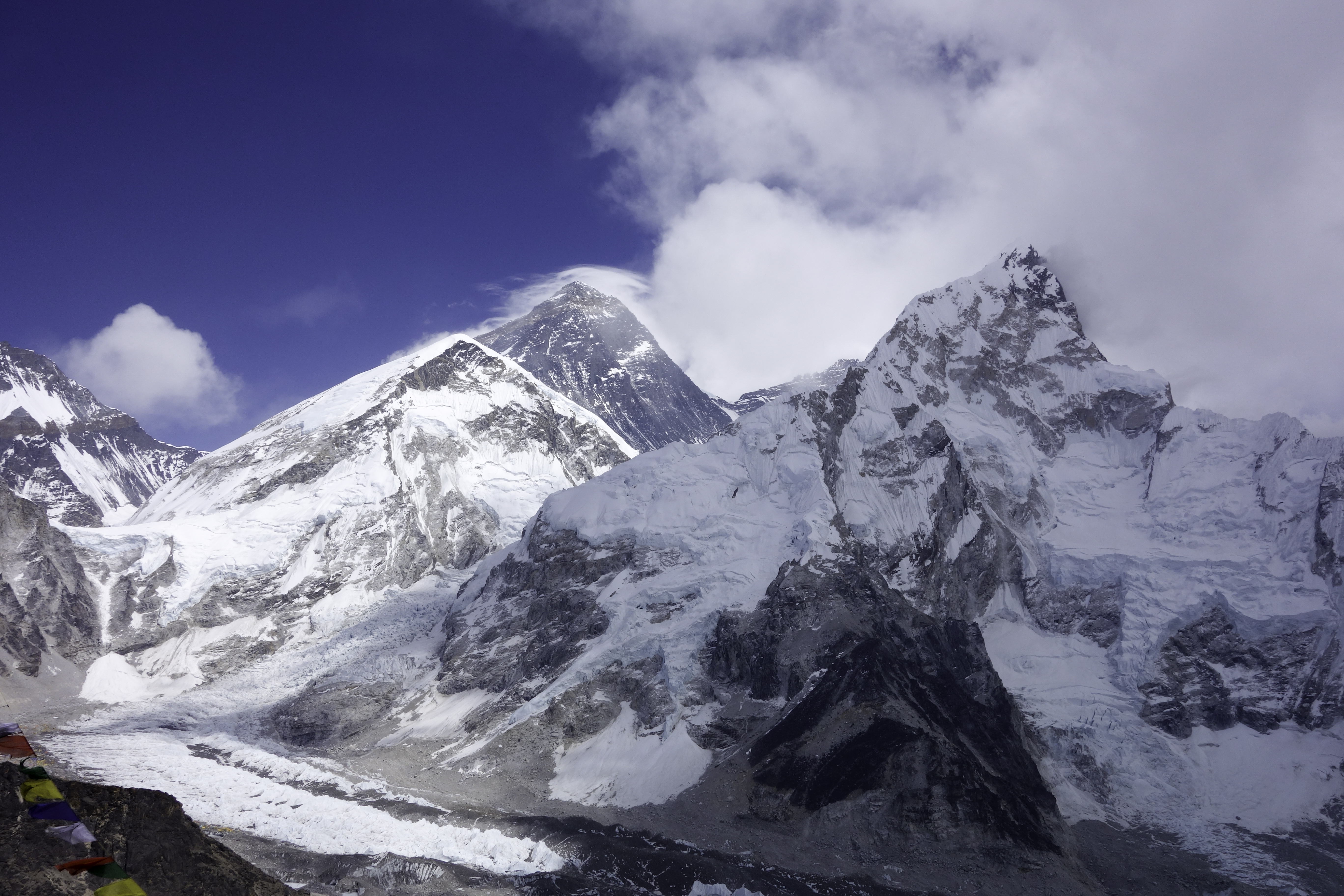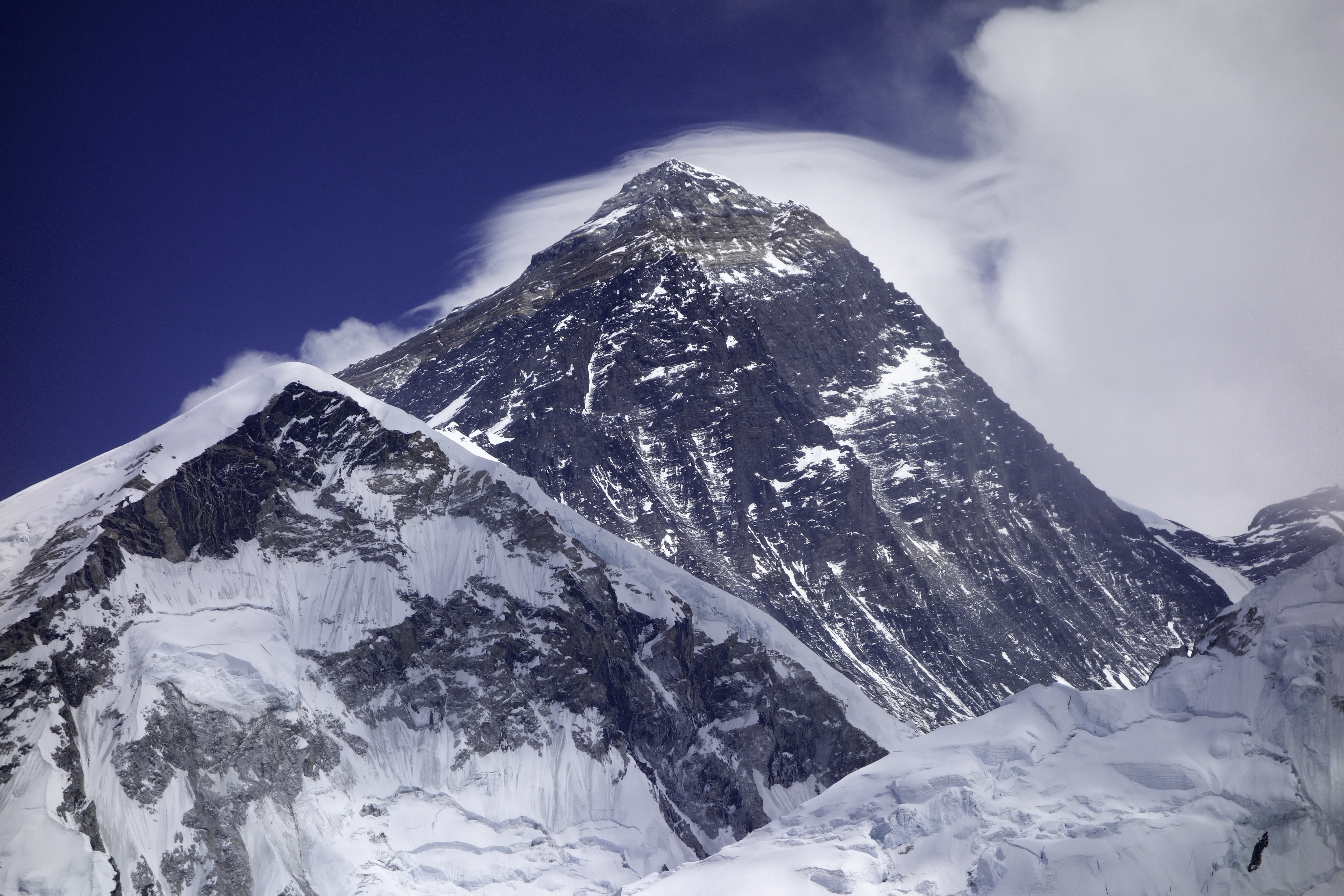 Cho La
Of the three passes, Cho La is the most attempted. It connects Lobuche with Gokyo, so it is a great alternative to trekkers who walked up on the main EBC trail and don't want to backtrack their way down.
Like most other hikers, I crossed Cho La in two days (it's possible to finish in one long day). On Apr. 25th, I left Lobuche in the morning, followed the main trail south and turned west into Cho La valley. After a two-hour walk, I arrived at Dzongla (4830m), a tiny establishment that caters almost exclusively to Cho La trekkers. I spent the rest of the day chilling in the dinning room, eating popcorn, reading and chatting with other trekkers and Sherpas.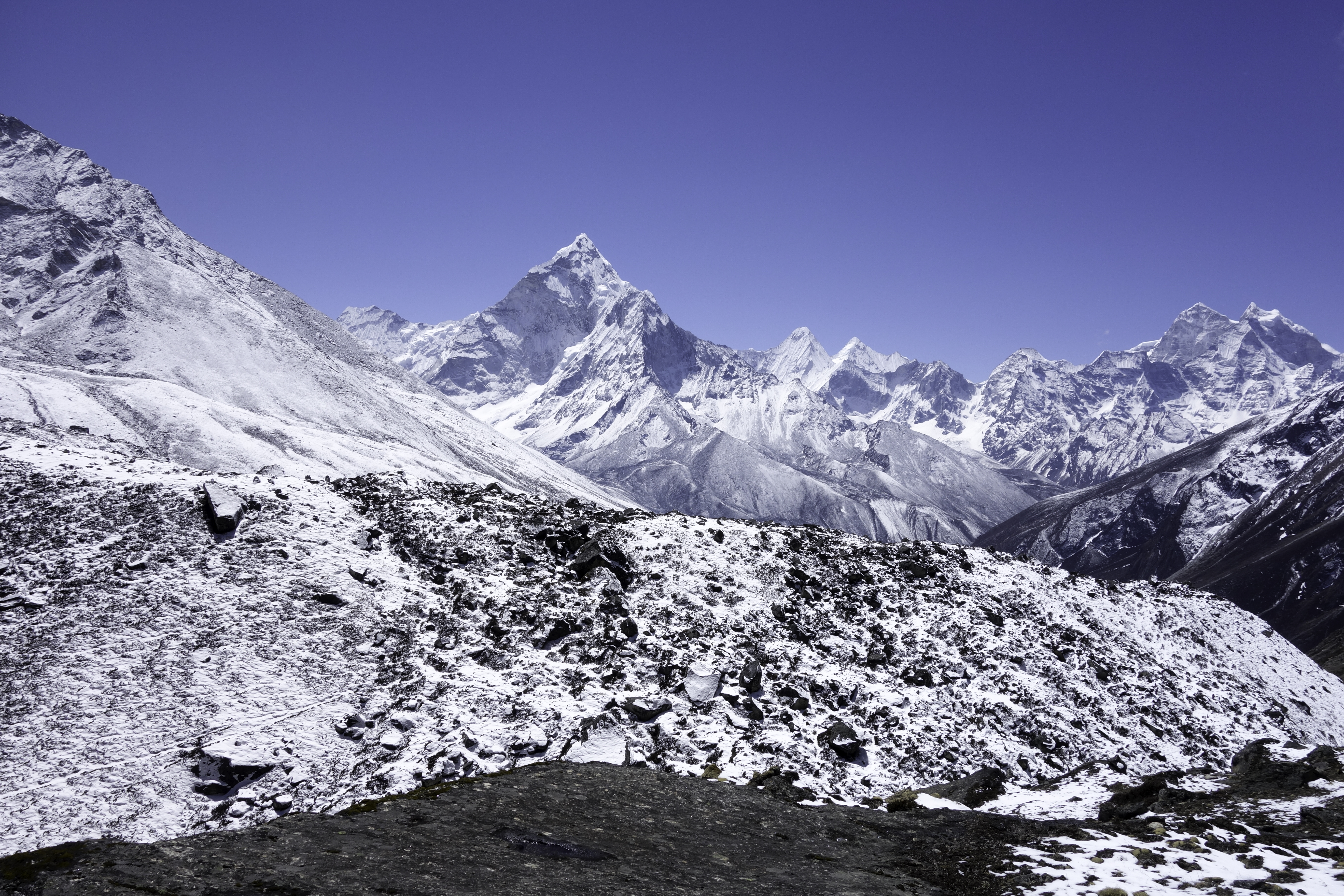 Next day, I got up early and started the hike toward the pass. Before you reach the top, you need to cross a large ice field. I put on my micro-spikes but if you are careful, you don't need it. I did partly because I carried it all the way here and thought I might as well use it once.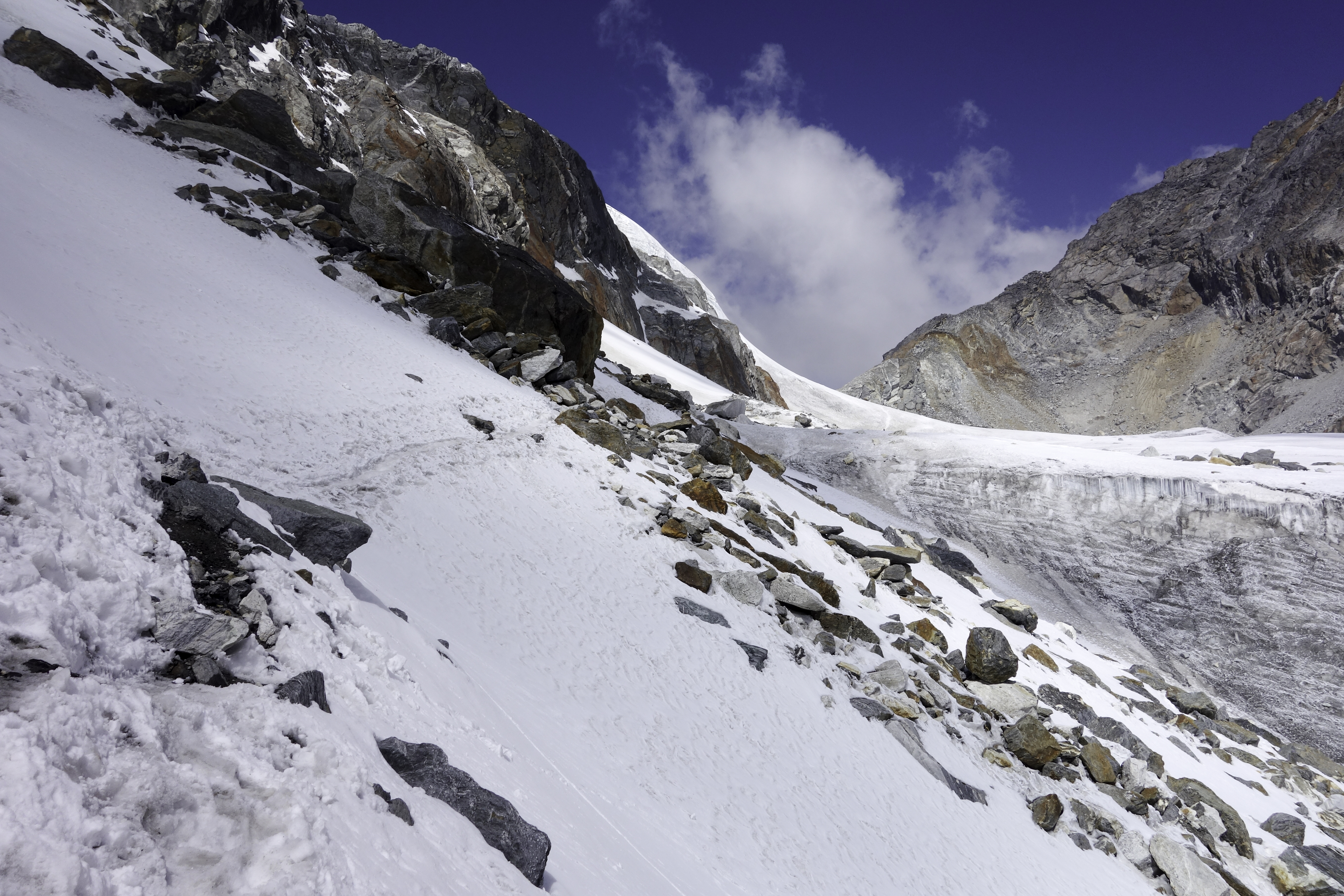 The climb was shorter than I had expected. At 11am, I was already on my way down. The other side of the pass, however, was REALLY steep. The slope was at least 60°. There was also some hidden ice that made the situation very tricky. I slipped and fell at least three times. Fortunately I had my trekking poles, and was able to stop in time to prevent any further damage. The pass can be done in both directions, but I wouldn't attempt from that side. On my way down, I came across people stranded half-way up, with nowhere to go. One hour later when I reached the bottom looking up, they were still at the same spot.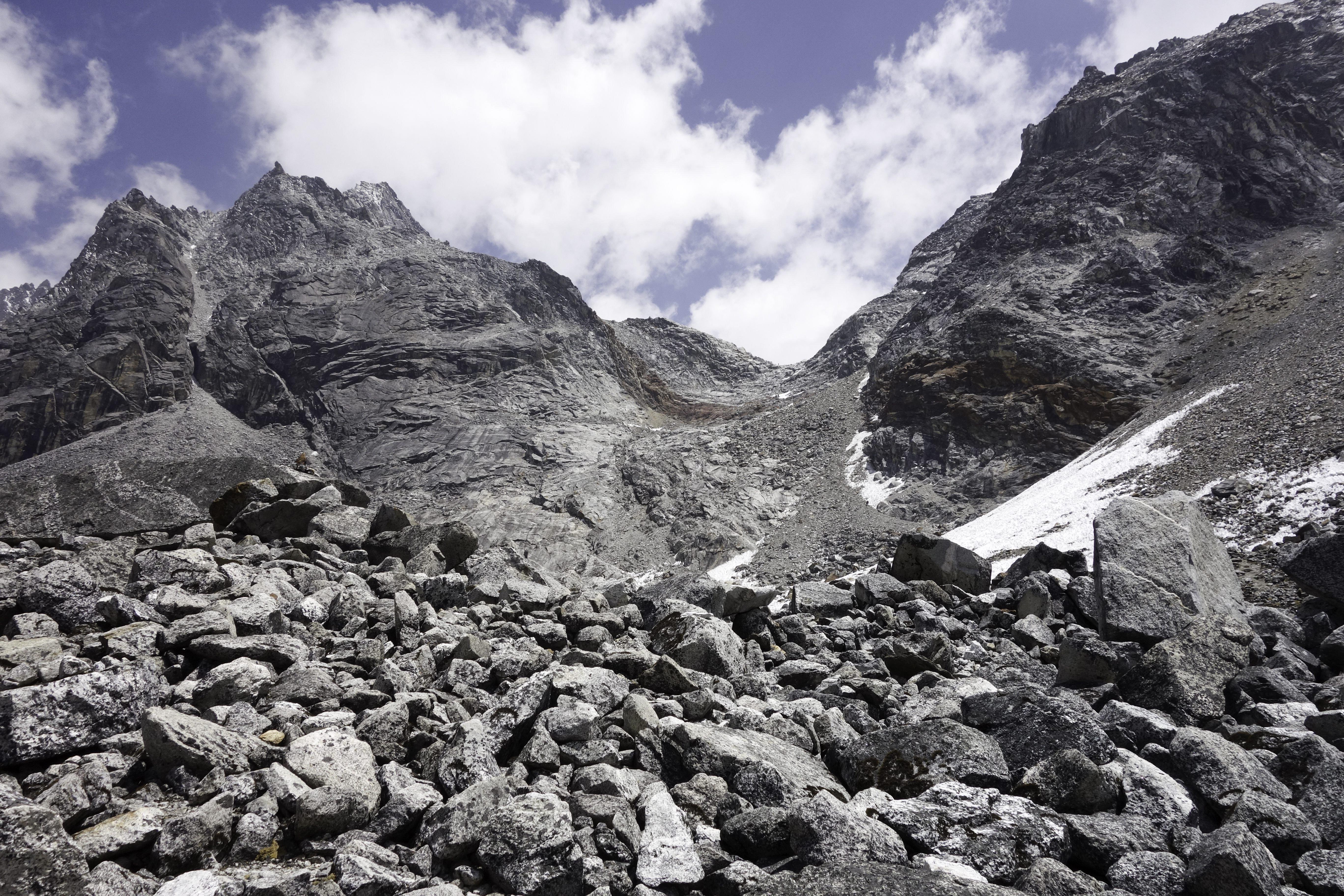 Another 2 hours' walk and I arrived at Dragnag. It's not the most appealing village, but offers all the basic amenities. It's good for a lunch break. If weather is bad, you can also stay there overnight in one of the couple of lodges.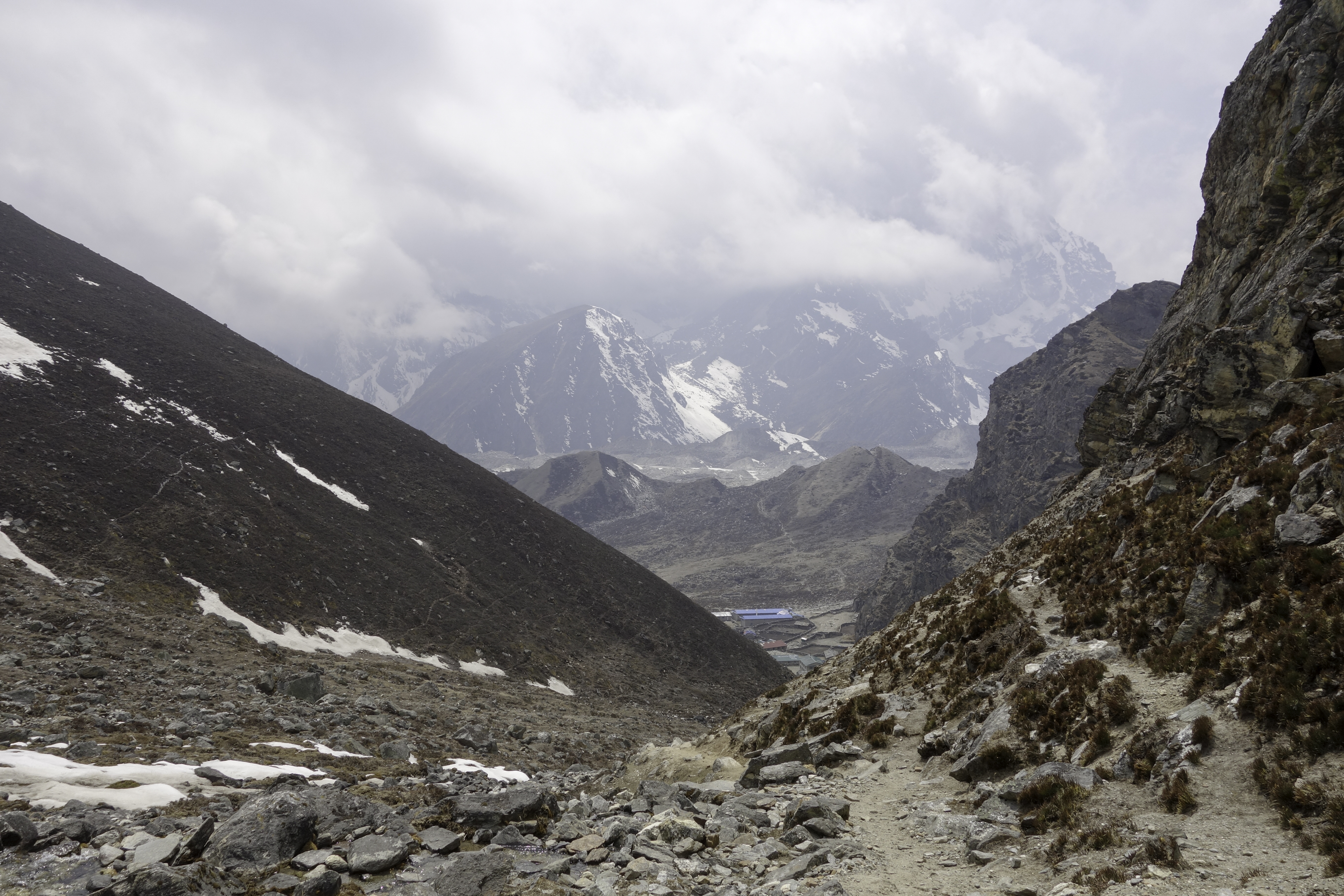 Leaving Dragnag, the trail soon enters Ngozumpa Glacier. By the time I started crossing, it got misty and visibility was really poor. Not knowing the trail condition, I perhaps should have turned around and headed back to Dragnag. Fortunately Nogzumpa was much better marked than Khumbu, probably because of the popularity of Cho La. Still I was very cautious. I would only walk towards a cairn when I saw a bunch of them lying ahead. When you finally climbed out via a steep slope at the edge of glacier, A small village and the sacred lake Dudh Pokhari next to it would come into view. Job well done! Welcome to Gokyo!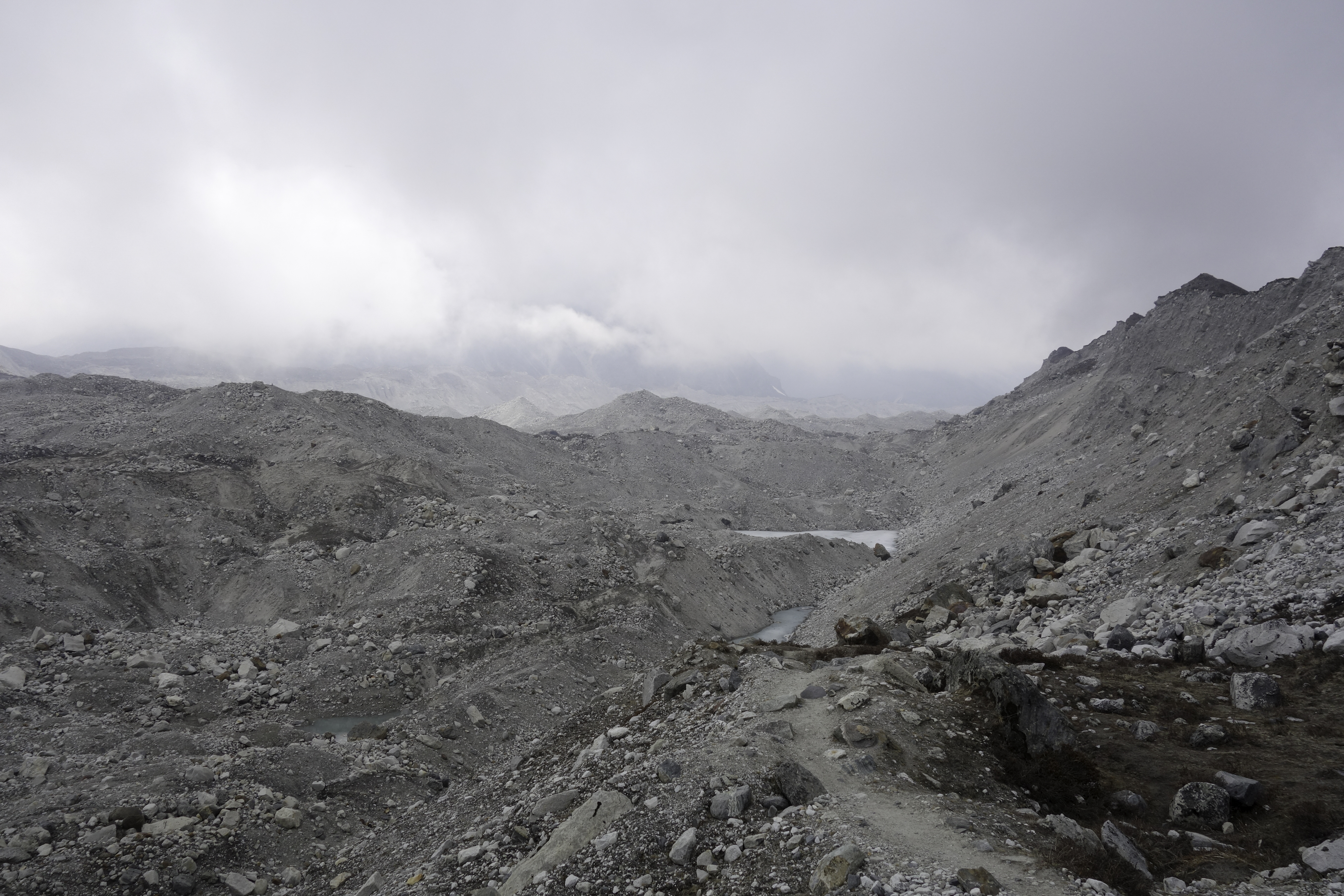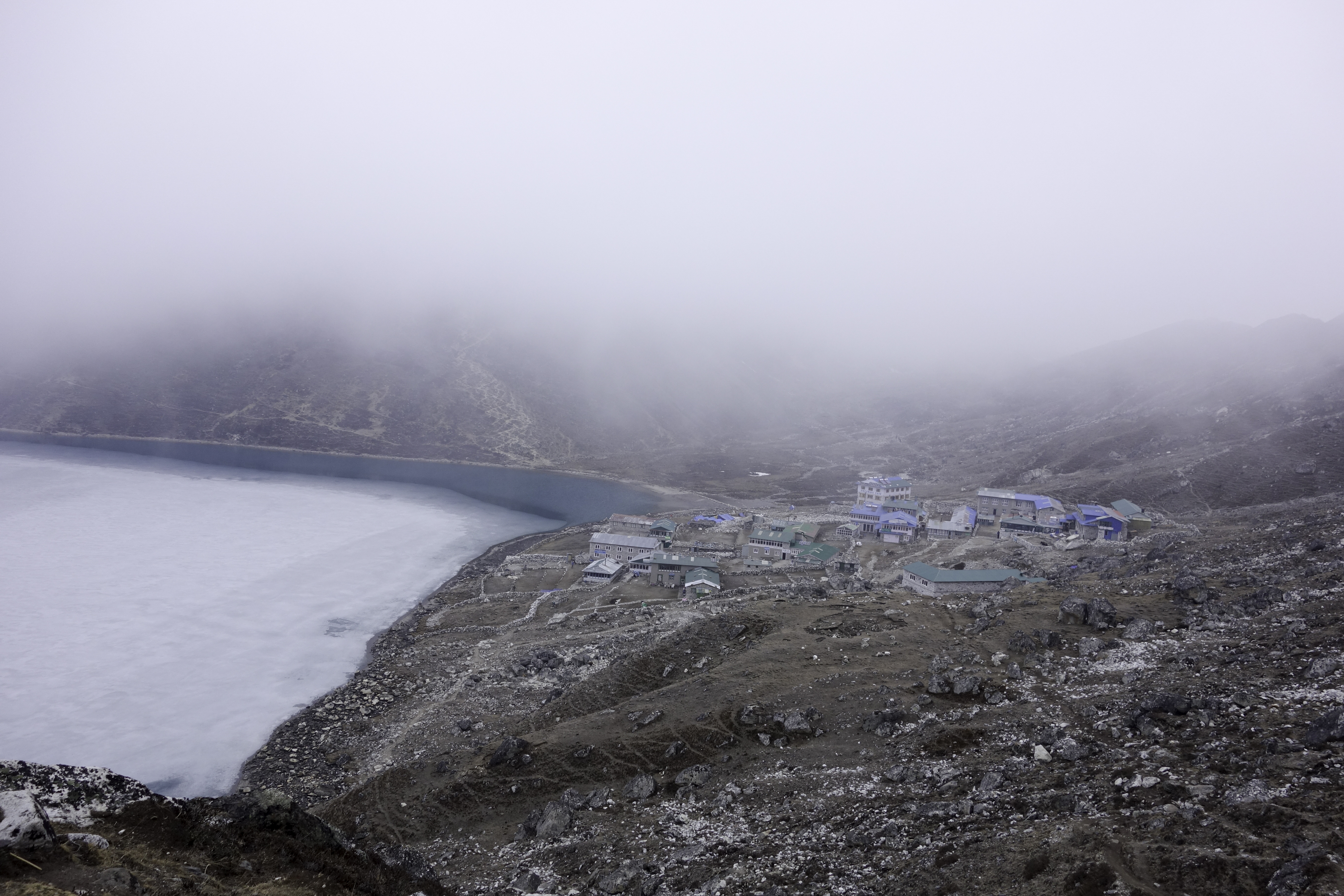 Gokyo
Gokyo is one of the most photogenic villages in the entire trek. Because of the lower altitude and close proximity to Namche, Gokyo has attracted more tourists in recent years. As a result, the village is also booming. It's a luxury to finally have a few lodges to choose from. I picked one that was next to the lake, and was quite happy about it.
I spent three nights in Gokyo. The next day, I went to climb Gokyo Ri, hoping to take a another look at Everest. Unfortunately I woke up too late and even though I was almost running to get to the top, the view was blocked by the clouds. Nonetheless, Gokyo Ri offered a nice view of Gokyo and the snowy mountains surrounding it.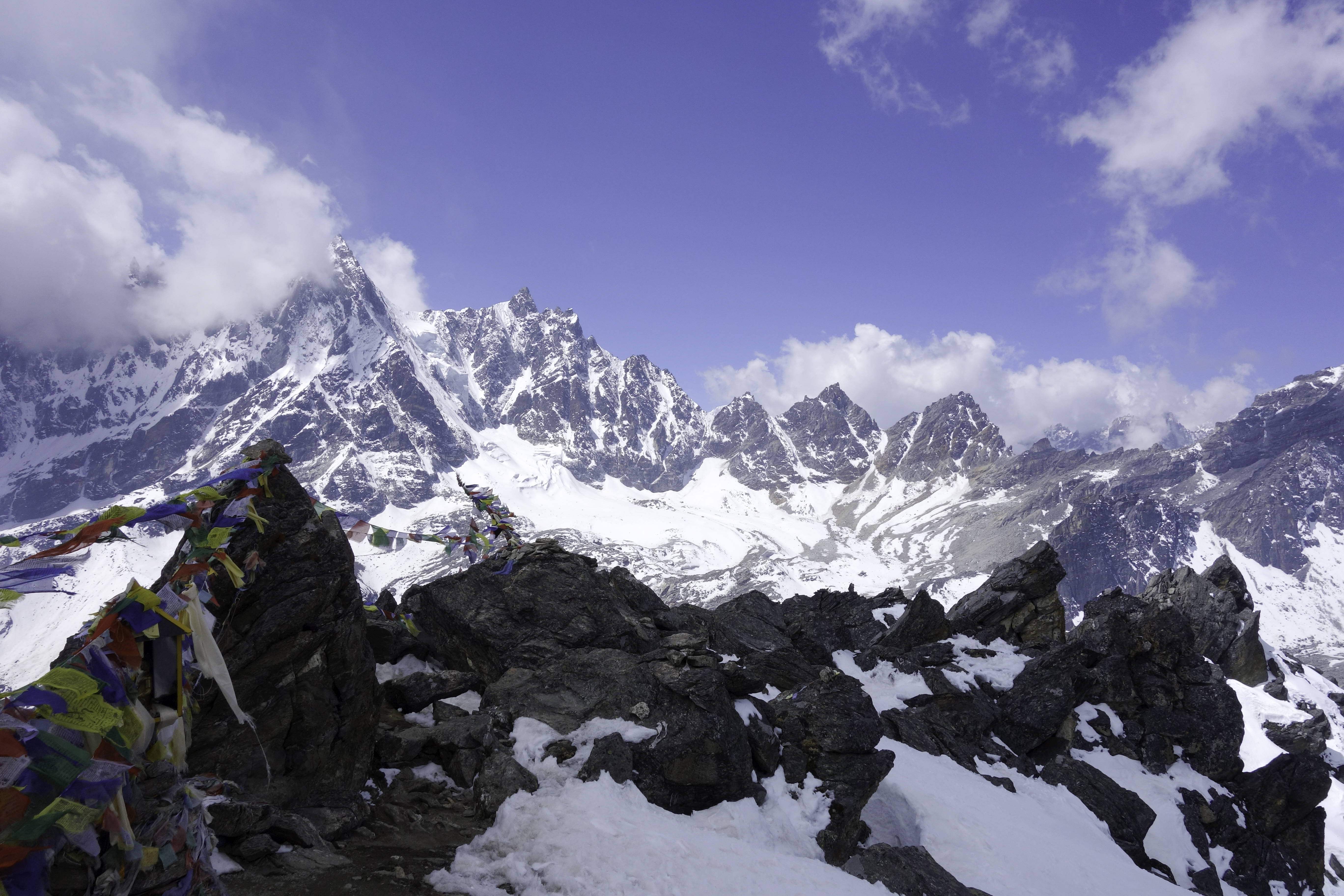 The second day I took a another day hike along the Nogzumpa Glacier to see the sacred lakes. With little altitude change, it was a leisurely walk. Make sure you follow the trail on the left. There were various footpaths on the glacier, but they were quite rugged and most of them would disappear sooner or later.
At the end of the trail, you will arrive at the fifth sacred lake, with Cho Oyo at background. Next to the lake is "Scoundrel's Viewpoint" that offers another cool view of Everest.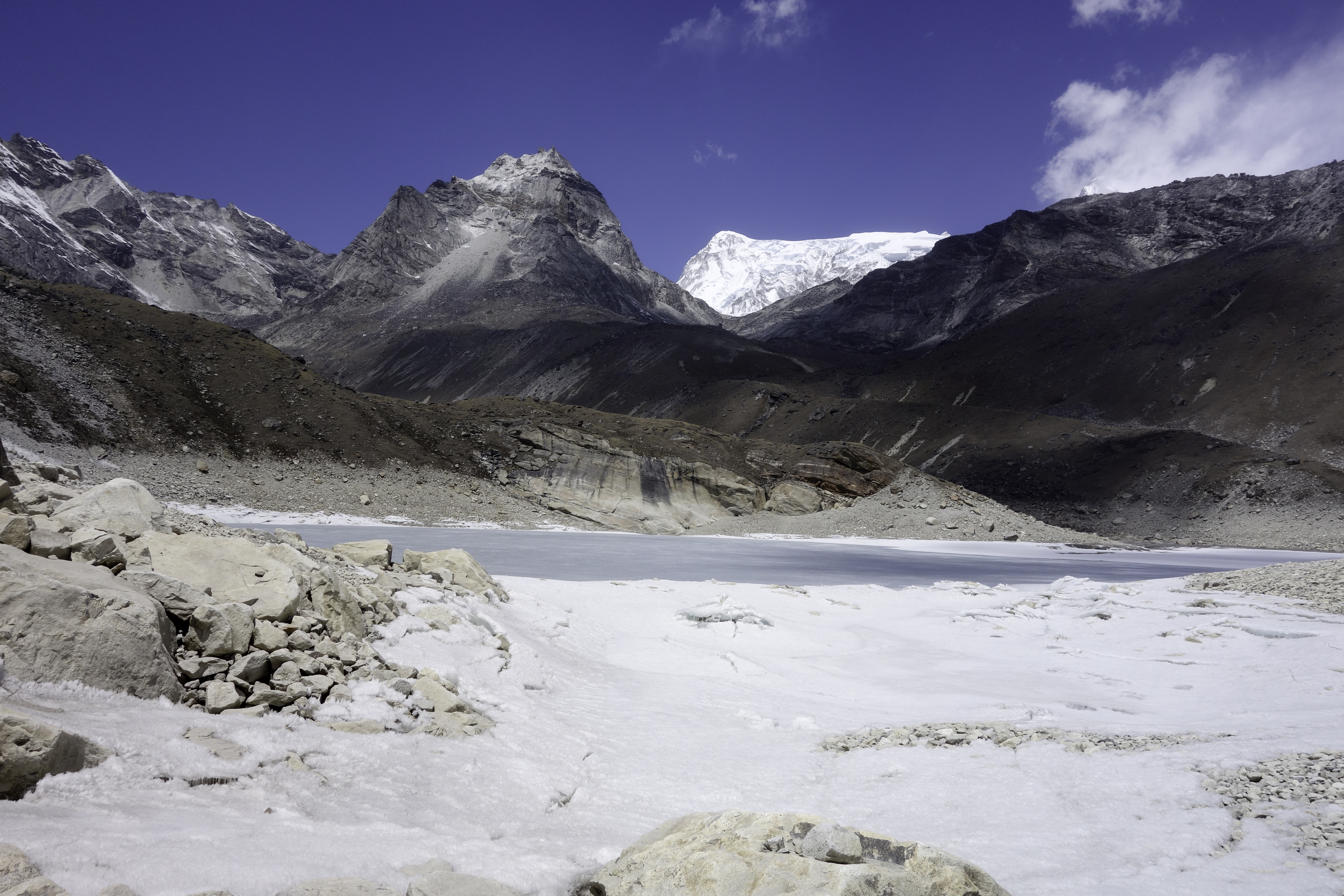 Renjo La
On Apr. 29th, I left Gokyo to cross Renjo La pass. Renjo La connects Gokyo to Thame, and was the last high pass I would cross during the trek. At 5400m, it was lower than the other two passes. Comparatively, it was also the easiest. It took me less than 3 hours to get to the top. From then on there would be no more ascent and it would be all the way down.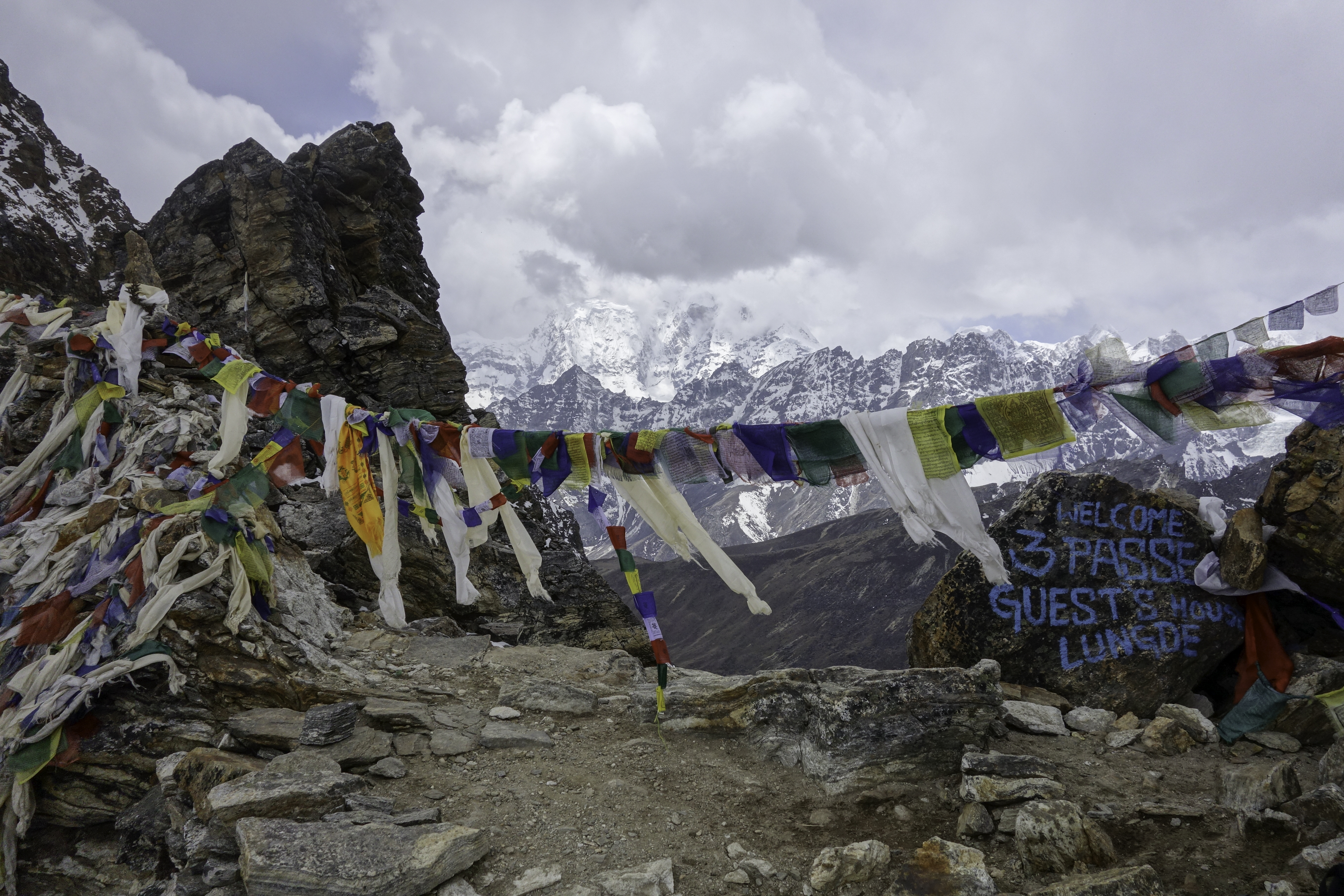 The descent follows the valley east to the Bhotekoshi river. I somehow lost the trail and ended up north of the junction. But the river was unmistakable. I basically walked south along the river and eventually got back to the trail. As I got closer to Thame the surroundings became greener and more lively. Trail was wider and more farms and pastries could be seen alongside. Finally before Thame, trees appeared again.
Thame was a very quiet village, even though many visitors stopped here to cross Renjo La. At that day, it was only me and a Brazilian trekker. I took the risk and had "yak" (buffalo) steak and chung for celebration. My stomach digested them with no problem.
The walk back to Namche was uneventful. I paired with the Brazilian guy I met the day before and we had a nice chat on the leisurely walk back.
The Way Out
My initial plan was to continue west from Lukla to do the Makalu trek. But after 4 weeks, I was a little sick of Dal Bhat. My parents were also not too thrilled to learn my whereabouts everyday from my SPOT messenger, so after I got back to Namche, I decided to call it off and head back to Kathmandu.
Going back wasn't as easy as I thought. The obvious way was to fly out of Lukla. It was an expensive flight, but this infamous flight sounded fun. Unfortunately it started raining May 1st while I was walking back from Namche to Lukla. I felt like a champion when I finally reached Lukla, but the excitement lased for less than 10 minutes. As I walked on the main street, I saw a large number of people lined up in front of the airline offices. Apparently most flights were canceled because of the rain. Obviously flying out the next day was out of question. Lodges in Lukla were more packed than a few weeks ago when I got there first time, but there were still plenty of rooms available. I heard that a few years back there had been a period of more than 20 days without a flight out of Lukla. Every single lodge was full and people had to camp outside.
The next day things didn't get better. By the time I got up, it was already raining, and no planes took off after that. I wandered around town for a few hours and I decided that I would go with plan B - to hike out to Salleri.
Salleri is the capital of Solukhumbu, and is the closest town to Lukla that is connected to a road. It is 2-3 days walk from Lukla. For the most part, it's a backtrack of Shivalaya - Lukla trek, until Ringmo. From Ringmo you can either walk to Salleri for another 3 hours on a rugged road, or if you are lucky, call a vehicle to fetch you there. I was fortunate to have met a few Sherpa guides that were taking the same route. They were kind enough to arrange all the logistics and took me and a few fellow Chinese trekkers with them. At Ringmo, we had a last look at the mountains.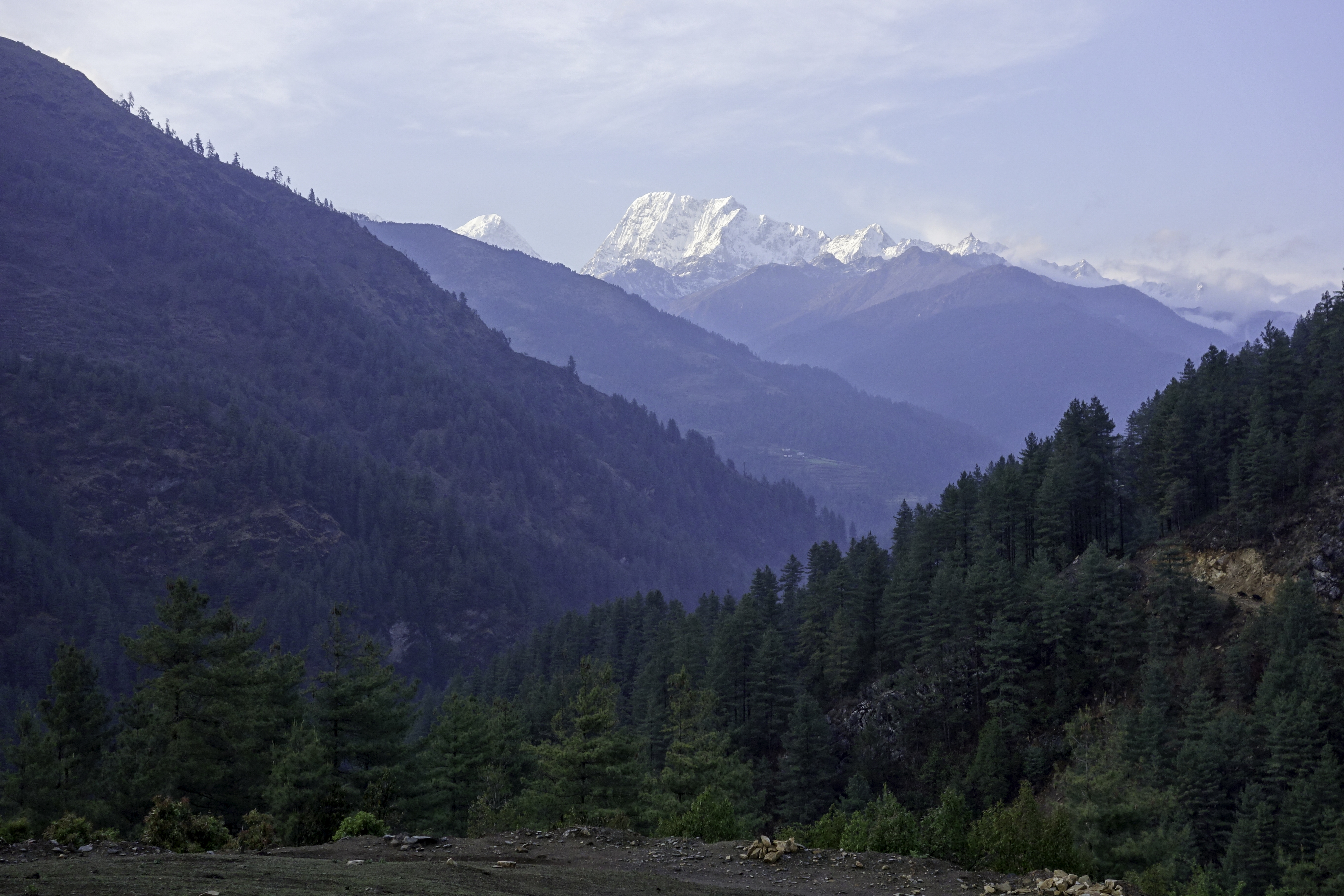 When we reached Salleri, it was pitch dark and there was no electricity in the entire town because of a power outbreak. Nonetheless, I was in great mood and drank chung with the Sherpa guides till 2 in the morning. I slept for 3 hours, and at 5am we(10 people including the driver) crammed into the "Jeep"(Tata) that would take us all the way back to Kathmandu.
The "Jeep" trip turned out to be quite an adventure. The roads were not paved, and were in terrible shape. I lost count of how many times my heads bumped the ceiling. A few times we were caught in traffic jams because vehicles (mostly buses) in front of us got stuck on a steep slope. People would then have to push the vehicle till it climbed over the slope.
I was quite impressed with our Tata. It had a flat tire in the middle of nowhere, and we had to ride on a donut for 50km before it was replaced. At 11pm, we finally arrived at Kathmandu.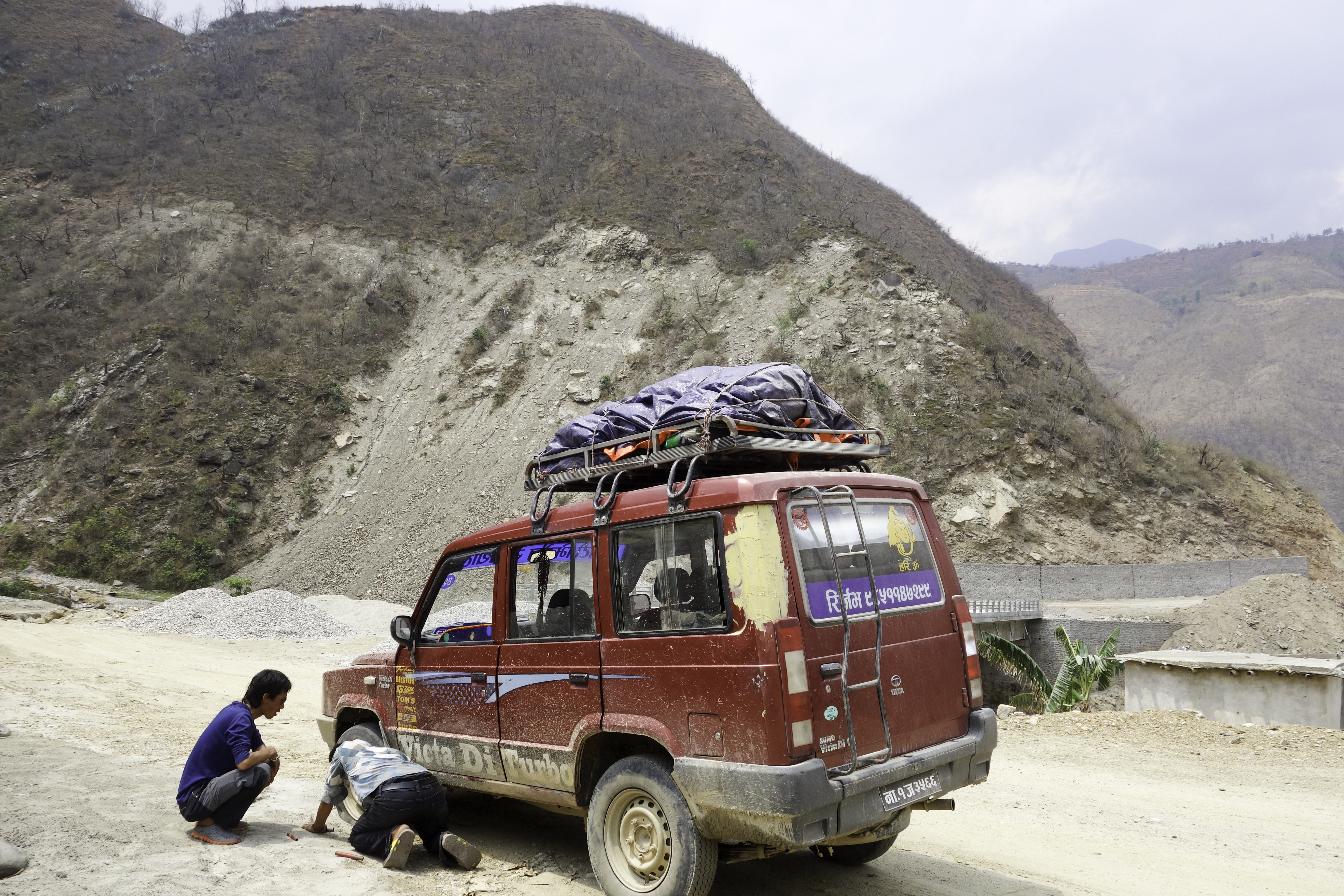 The Avalanche
In the morning of Apr. 18th, an avalanche happened on Khumbu glacier between camp I and camp II. 16 Sherpas were killed. I was heading to Tengboche from Namche that day, but I didn't learn about the accident until two days later at Dingboche.
This was an extremely sad moment when I heard the news. I had met a few Sherpas who had worked for previous commercial Everest climbing expeditions. They told me that the only reason they did it was because of money. They were paid $100 for every haul from camp I to camp II. To show my respect, I decided not to visit the basecamp.
I am not a climber and my only knowledge about Everest climbing comes from Into Thin Air. I think it's a biased account and I am sure all those clients who pour in more than $50,000 and spend a couple of months in the mountain have their reasons. After all, Everest is the highest mountain in the planet. Even this horrible accident won't stop more people from trying the summit. They have weighed the danger and decide it's worth the risk. It's the Sherpas that are really the victims. There's no escape from this sad supply-demand economic principle. Nepal is a poor country whose economy relies heavily on tourism. Because of fierce competition, lodges, food and guided trekking trips were cheap. The best way for Sherpas to make money is climbing. I couldn't see any way to break this vicious cycle. All I can do is to mourn for Sherpas who perished in the mountains for a reason that they have no control over.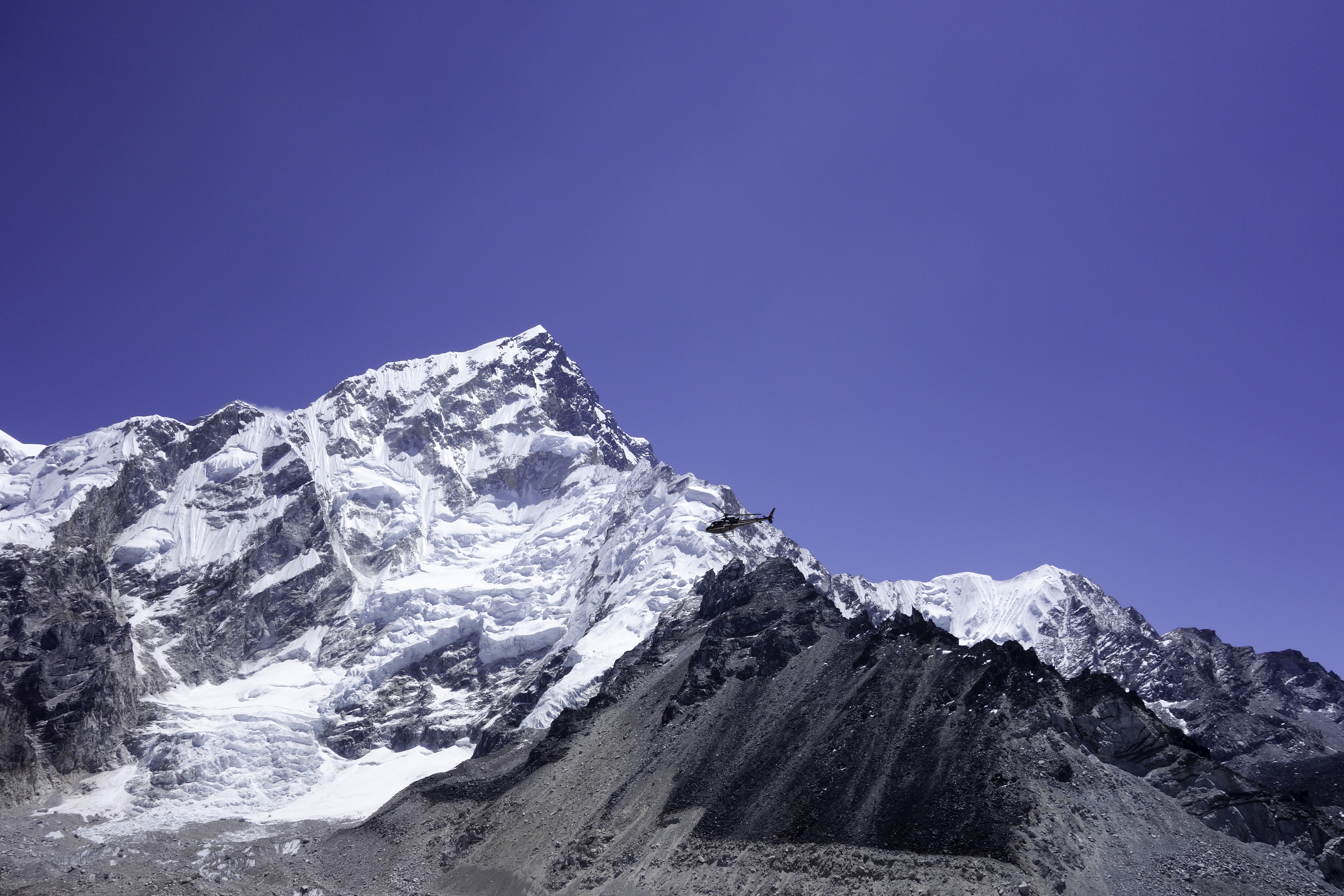 Epilogue
7 months after the trek, I finally finished the write-up. There were too many things I wanted to write about and I was intimated by the workload. Surprisingly, as I am writing this article, I still remember most of the events perfectly, as if it happened yesterday. I have since done a few other hikes at high altitude, and none is as impressive as EBC. Even though it is not a difficult hike, nor is it a wilderness trip, the scenery in Khumbu region is unbeatable. And this is why I hike - to seek the most beautiful things on this planet.
---